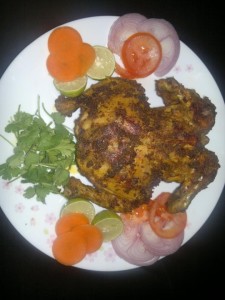 Preparation Time : 10 minutes + 5-8 hours for marination
Cooking Time : 35 minutes
Serving : 6 members
Description
Recipe post by marju shabeer for the competition. Her Description and recipe follows. I got inspired to try this recipe from my co-sister. Just gave it a try and now it's become our favourite family food. Every time i serve it for my guests i get showered with sweet compliments. So here it goes SPICY FULL ROAST CHICKEN though the name is roast chicken it's more of a baked chicken.
Ingredients to Marinate
| Ingredients | Quantity |
| --- | --- |
| Full chicken | medium size |
| Butter | 1/4 stick |
| Coriander powder | 2 tablespoon |
| Chilli powder | 2 tablespoon |
| Turmeric powder | 1 teaspoon |
| Garam masala | 1teaspoon |
| Pepper | 1/2 teaspoon |
| Ginger garlic paste | 2 tablespoon |
| Curd | 3 tablespoon |
| Lemon juice | 1/2 lemon |
| Salt | to taste |
Method for Marination
Firstly de-skin the chicken.Then thoroughly clean the chicken and pat it dry with kitchen tissues till it absorbs all the water.Set it aside.
Now mix all the ingredients needed for marination into a paste.
Once the paste is done,nicely rub it into the chicken.Spread the masala all over the chicken.The remaining masala can be stuffed inside the chicken.
Place the chicken in an oven proof dish and leave it the fridge for at least 5-8 hrs(cover the vessel with plastic wrap)I always marinate the night before and leave it the for the whole night.then the next day all u have to do is put it in the oven.
The masala's gets absorbed really well and time saved as well.
Method to Bake
Preheat the oven to 200 c.Once it's time to add food place the chicken dish inside and set the oven to convection mode 30 mins.(plz remember to remove the plastic wrap)When the chicken has been cooked for 15 mins carefully toss it to the other side and let it cook for the other 15 mins.
When it's done and the oven is cooling down take a Kadai and add 2 tablespoons of oil.
Take the chicken out and carefully slide it into the kadai.After 5 mins turn it to the other side.This will give it a roasted look.
The remaining masala's which is left over in the oven vessel can be poured over the chicken.
This chicken will taste little roasted on the outside and really soft and juicy inside.And as it is baked rather than fried it is on the healthier side as well.