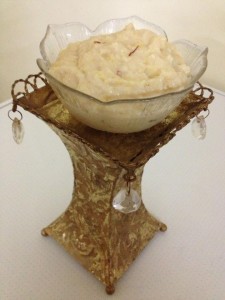 Preparation Time : 20 minutes
Cooking Time : 15 minutes
Serving : 4 members
Description
Bread Bhasundhi. Bhasundhi is a traditional full flavoured Indian sweet made by reducing milk to a semi thick form. Well bread bhasundhi is just a short cut way to finish the long simmering sweet to be done soon in a fuss free way. Made with few ingredients transforming into delicious indulgence. I got this recipe from my moms last sister Thasneem.Who is just 3 years elder to me. A fussy eater as a child .During my holiday stay at my grand parents place, she used to be compared to me a lot. As i was bubbly,loud, naughty, curious and all around the place but my aunt was just the opposite quite, shy…. Even our food habits were extreme opposites. i was very experimental even then eat anything and everything.She being fussy my grandfather used to get into my aunts nerves that she used to ask me to leave to Coimbatore soon. I remember , i used to follow the smell of food cooked in the kitchen and go even before any one could call for a meal.The elaborate spread on the table every meal was served in a way that celebrated the gathering of the entire family of all age groups. I guess my love for food was rooted from then onwards.
Ingredients
| Ingredients | Quantity |
| --- | --- |
| Bread slices | 5 edges cut |
| Ghee | 3 tablespoons |
| Milk | 1/2 litre |
| Condensed milk | 1 tin |
| Saffron | few strands |
| Cashew nuts | 1 tablespoon chopped |
| Almonds | 1 tablespoon blanched , peeled and chopped |
| Pistachio | 1 tablespoon chopped ( I didn't use as I was out of stock ) |
| Cardamom powder | 1/2 teaspoon |
Method
Cut each bread slices into 4 pieces . Fry in 1 tablespoon of ghee just for the aroma of ghee to get into the bread pieces for a minute in low flame .
Make sure the colour of the bread stays white in colour . Cool and blend to get a coarse powder . Boil milk , condensed milk , cardamom powder and saffron together for 10 minutes till half reduced .
Add the powdered bread along with chopped nuts and remaining ghee . Mix well .
Simmer for a minute till all the flavours infuse together . Incase the bhasunthi is to thick can add a little milk to get a semi thick consistency . Remove from heat .
Serve hot , warm or chilled . Best served chilled .