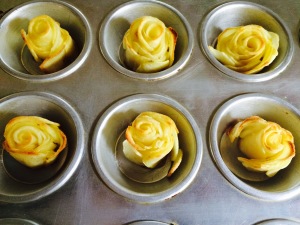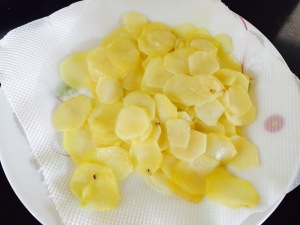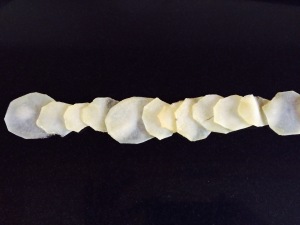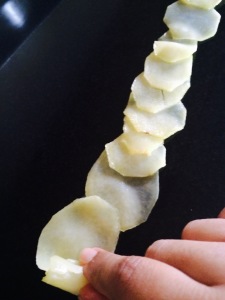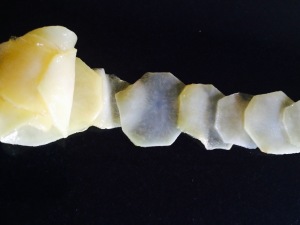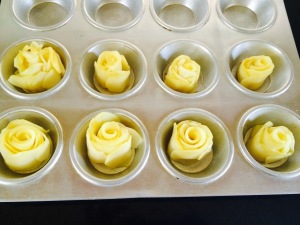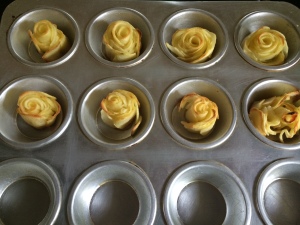 Preparation time : 20 minutes
Cooking time      : 15 minutes
Serves                : 4 members
Description
My first cook book ( in Tamil ) release that was taking place at home with a small gathering of my friends and well wishers. I had planned a high tea party along with the book release. Wanting the high tea spread to be grand I took maximum efforts to make the table shine. This potato rose was one gimmick that I tried to pop up all eyes that saw it. I did place it along side the cutlets served to decorate the plate. Every one did ask me what it was and when I told them about it, I had raised eye brows in front of me. The mighty, normal, every day potato just created magic with this rose twist. I still am surprised on how I had time to click step by step pictures when doing this on that nervous busy day. A big pat to myself for that. Happy potato rose making to one and all.
Ingredients
| Ingredients | Quantity |
| --- | --- |
| Potatoes | 6 medium sized |
| Salt | To taste |
| Oil | To deep fry |
Method
Slice the potatoes into thin rounds with the skin ( I peeled the skin but it looks better when done with the skin ) using a slicer dicer.
Rinse in water, wipe the potato slice with a cloth to dry.
Heat oil to medium low. Drop the round potato slices in batches and fry to soften the potato slices so it's easy to pile them and roll together. Drain and keep aside.
Preheat an oven at 180 degrees Celsius for 10 -15 minutes.
Place a batch of 12 -15 round slices of potatoes together over lapping one another. Roll tightly but gently. Then turn the rolled batch and place them straight to get a rose shape. Do the same to all the potatoes.
Place the potato roses over a greased muffin tray. Bake in a preheated oven at 180 degree Celsius for about 5-8 minutes until the potato roses crisp up.
Remove from the oven and serve as a garnish adding more glamour to the snacks or food served in style.