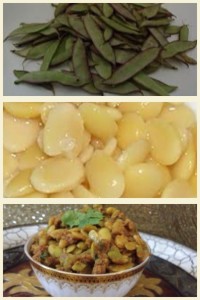 Preparation Time : soaking over night and cleaning of hyacinth beans 20 minutes + 10 minutes
Cooking Time : 20 minutes
Serving : 6 members
Description
Pacchai avairaiyum kaimavum that's how we call this dish at home . It is made of hyachinth beans and minced meat.This dish is a familiar classic among our family members.The hyacinth beans are available in the market only during a particular season once in a year. There are two types of hyacinth benas one pink coloured skin and green skinned. The one we get in India is the green skin one. The outer skin is removed to get small light yellow greenish beads inside. Then we soak the beans over night and peel the skin and then prepare the dish.A lot of work goes into the process of making this dish but worth the pain , I assure you that . Well good things comes to those who wait. This recipe is my grand mother balkees perimas.At home whenever i prep up to prepare a dish from moms place, my maid is like ayyoo because there is so much more extra work to do . My maid always complains about why are the dishes from your moms place so elaborate and pain taking .
Ingredients
| Ingredients | Quantity |
| --- | --- |
| minced mutton | 1/4 kg |
| hyachinth beans ( pacchai avarai ) | 1 kg (peeled , inside seeds soaked over night and remove outer skin by pressing gently between your thumb and index finger ) |
| ginger garlic paste | 1 teaspoon |
| small onions | 1 hand full chopped |
| green chillies | 2 chopped |
| coriander leaves | 1 tablespoon chopped |
| turmeric powder | 1/4 teaspoon |
| coriander powder | 2 tablespoons |
| chilli powder | 1 teaspoon |
| salt | to taste |
| coconut oil | 1 teaspoon + 2 tablespoons |
| cinnamon 1 + clove | 1 powdered together |
| Water | 3/4 cup |
Method
Mix minced mutton together with all the ingredients except for coconut oil 2 tablespoons and the hyachinth beans .
Pressure cook the minced mutton mixture for two whistles till the minced mutton is 3/4 cooked .
Now pour the minced mutton mix into a large non stick kadai adding the hyachinth beans together .
Bring to boil and cook till the minced meat and the hyachinth beans are cooked through . Pour 2 tablespoons of coconut oil and mix well .
Simmer for 5 minutes till oil floats on top and all the flavours infuse together . It should be of a semi thick gravy consistency .
Serve hot with rice or chapathi as a side dish . We were served this dish only for lunch and the left over for dinner.