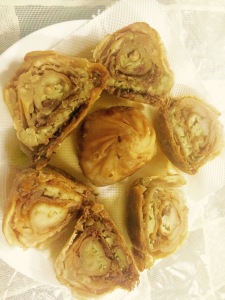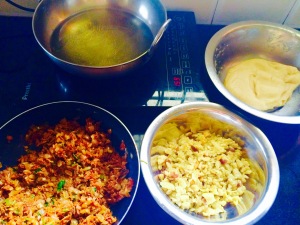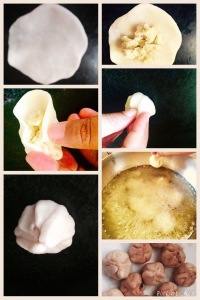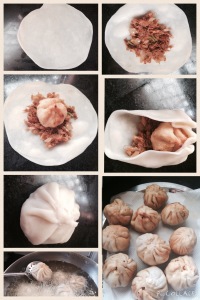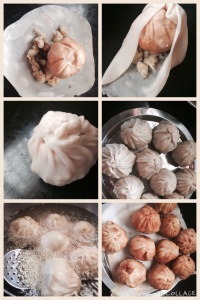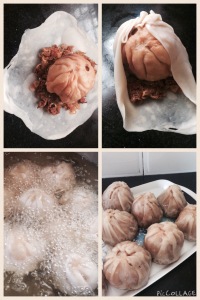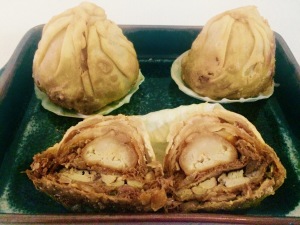 Preparation Time  : 50 minutes
Cooking Time       : one hour
Serving                 : 5 members
Description
I really am not sure from where my love for malabar food started as the only malabar connection I had was my best buddy sulu and a few home made treats she would bring to school after every holiday. The first time I really got to relish a typical malabar treat was when I was taken along with a heard of people ( around 30-40 of us… Gosh we were a crazy heard ) to see a bride  for my moms first cousin brother in Kerala. Cant remember the name of the place but the house was in between a rubber forest, lush green and silent. We were served a grand spread of snacks and tea . Every snack on the table was home made and all the snacks were so different and my first time for sure. The bride was equally good looking like the grand spread and we made sure to add her to our crazy heard. Even till date I keep telling my mom that afsina aarrs is the best looking daughter- in- law of our family. Later I got to know the pappla's are known for their fondness for good food. Palagaram or savoury snacks are loved by the entire community and had between meals. This snack recipe was taken from my moms recipe book which was gifted to her by a pappla friend . Though the book has stained pages, she has never made this snack for us being her true lazy to cook self. I made it with two minds following the recipe as it had two fillings one sweet and the other savoury. Wanting to be loyal to the recipe went ahead with the method for filling but changed the dough ingredients a bit as I felt the given dough ingredients would give the dish a chewy cover. The multiple layers of cover and fillings add to its unique flavours. A very indulgent snack but worth every calorie and when eating a malabar fare you should forget about your waist line.
Ingredients for mince filling
| Ingredients | Quantity |
| --- | --- |
| Minced meat | 200 grams |
| Turmeric powder | 1/4 teaspoon |
| Red chilly power | 1/4 teaspoon |
| Coriander powder | 1 teaspoon |
| Salt | to taste |
| Big Onions | 2 chopped |
| Green chillies | 4 chopped |
| Ginger garlic paste | 1 teaspoon each |
| Garam masala powder | 1/2 teaspoon |
| Coriander leaves | 1/4 bunch chopped |
| Oil | 2 tablespoons |
Method for mince filling
1. Mix cleaned mince meat with turmeric powde, red chilly powde, coriander powder, salt to taste and little water together. Cook to done and dry consistency.
2. Heat oil in a kadai, add onions and green chillies. Fry to light brown in color. Top with ginger and garlic paste. Fry to crisp. Add boiled mince meat, garam masala powder and coriander leaves. Mix well and remove from heat. Cool completely and keep aside.
Ingredients for egg filling
| Ingredients | Quantity |
| --- | --- |
| Eggs | 4 |
| Sugar | 2 tablespoons |
| Ghee | 2 tablespoons |
| Cashew nuts | 2 tablespoons cut into bits |
| Raisins | 2 tablespoons |
| Cardamom powder | 4 pods powdered finely |
| Salt | a pinch |
Method for egg filling
1.Beat eggs with sugar and salt.
2.Heat ghee in a frying pan. Add cashew nuts and raisins. Fry to a golden brown color. Pour the beaten eggs and scramble adding cardamom powder. Remove and cool completely.
Ingredients for the cover
| Ingredients | Quantity |
| --- | --- |
| Ingredients for the cover | 250 grams |
| Salt | to taste |
| Oil | 1/4 cup |
| Water | enough to get a smooth dough |
How to proceed
Take a small ball of dough. Roll out to a 6 cm round. Place one teaspoon of egg filling in the middle. Get the edges of the circle together towards the center to get a pumpkin shape. Pinch off excess flour from the top. Heat oil to deep fry. Fry the filled pumpkin shaped pot to a golden color. Drain and set aside. ( I did ten pieces similarly at a time making it easier )
Roll a bigger round out of the dough about 10-12 cm which is bigger than the first circle. Place two teaspoons of mince filling in the center. Top with the first egg  filled deep fried pumpkin. Bring the edges of the circle toward the center covering the first small pumpkin. Pinch of the excess dough. Deep fry in hot oil to a golden brown color. Drain and keep aside.
Do the same repeatedly with bigger rolled dough rounds each time and filling alternatively with egg filling and mince filling. Deep fry each time you stuff a filling.
Four layers is good enough but you want a smaller pumpkin's you can stop with three layers. If using three layers make sure to use two layers of mince filling and one layer of egg filling.