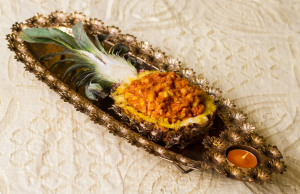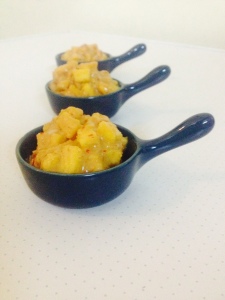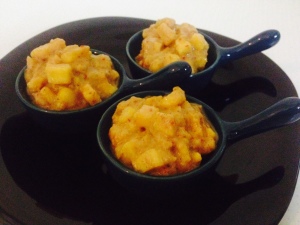 Preparation Time : 20 minutes
Cooking Time : nil
Serving : 4 members
Description 
Rasam is one dish that is on the table every day for lunch at home . Wanting a change with it's own in another form . Remembered seeing a pineapple rasam recipe in a foodie magazine . Searched for the recipe and to my surprise the recipe was not a rasam but a Sasam . Went through the recipe and found it to be so very easy and immediately knew this recipe is for keeps and to be added into my regular veggie menu at home . I put aside the idea of pineapple rasam to be done for another day and grabbed this super simple recipe to be tried out first . This is some thing like a chutney or a salsa that's apt for beginners to start with making cooking more pleasurable and impress loved ones . Served it for lunch along side a typical Tamil vegetarian menu . The Sasam ( pineapple relish ) did go and fro from my side to hubby dears side more than a couple of times . I licked the entire Sasam with no shame . Hubby dear made sure I make another batch of the Sasam to be taken for his vegetarian friends family that night . I had no issue at all doing it all again as it's so easy with nil cooking to done . Next day I get a call from Neetha ( hubby dears , friends wife ) saying the dish was so yum but I just got a tiny bit as my hubby gobbled up the entire lot and told his mother about this dish a lot . Now she wants the recipe . I did pass over the recipe and she was like that's it . Really ? I know , even I had the same reaction in mind when I made this dish . This is an authentic recipe from the Konkani speaking Hindu Brahmins addressed as saraswat . These sort of dishes that are rare to be sampled outside other than homes is what really amazes me . We still have so many scrumptious cuisines that need to be found in our country that's beyond the means of common flock . Each community in our country is rich in layers of history , context , legend and trivia to it . Oops , coming back to the dish .happy cooking to all with this rustic , homely knock out flavour profile relish .
Sasam / Pineapple relish
| Ingredients | Quantity |
| --- | --- |
| Pineapple | 1/2 medium sized chopped |
| Jaggery | 1 tablespoon crushed |
| Salt | to taste |
| Sultanas / raisins | 25 grams |
| Coconut grated | 30 grams |
| Dry red chillies | 3 or more to taste |
| Mustard seeds | a pinch |
| Tamarind | 1 teaspoon |
| Yellow mustard powder | 1/2 teaspoon |
Method
Mix pineapple chopped with jaggery and salt . Keep aside .
Grind the remaining ingredients together to a paste . Taste and adjust the paste .
Combine the ground paste and pineapple mix .
Mix well and place in the refrigerator until needed to be served .
Notes
You can do the same with madras cucumbers and green grapes