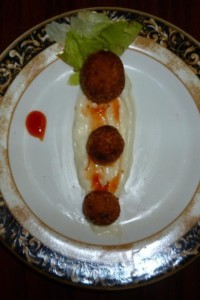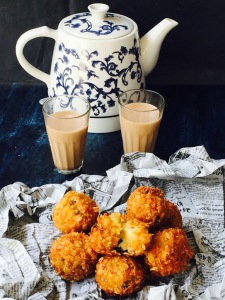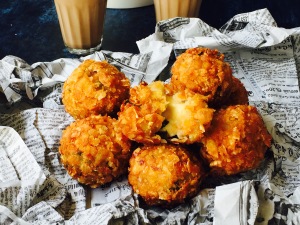 Preparation Time : 20 minutes
Cooking Time : 3 minutes
Serving : 6 members
Description
Cheese Balls. Yes you might think it's the same old cheese balls. But no your wrong. I have bought an INDIAN twist to these balls. Anyone who hates cheese also will like this dish. It's very healthy (the main ingredient which i have used in this dish is the plantain stem "which is why i said its healthy", when you are having these balls you will have no clue that you are actually eating the vegetable. It is soo yummy) and anyone from the kids to adults will love this dish.
Ingredients
| Ingredients | Quantity |
| --- | --- |
| potatoes | 2 (boiled and mashed) |
| Plantain stem vegetable(valaithandu) | half of the vegetable chopped to small piece(soak it in curd till you use it) |
| chopped onions | 2 medium size |
| Grated coconut | a handful |
| Roasted nuts(cashew nuts and almonds) | as needed |
| Chopped green chillies | 2 |
| Ginger and garlic paste | as needed |
| Mozzarella cheese | as needed |
| Garam masala | as needed |
| Cumin powder | as needed |
| Chilly powder | as needed |
| Salt | as needed |
| Corn flour | (make a watery paste of corn flour by mixing it with water) |
| Corn flakes | one cup |
| Oil | as needed |
Method
Mix the mashed potatoes,onions,plantain stem, grated coconut, roasted nuts,chillies, ginger garlic paste and d spices(the potatoes should not be too watery and don't add too much onions because the balls might break while frying).
Spread a little amount of the mixture on the palm, place a piece of mozzarella cheese in middle and cover the cheese with the mixture and make a small ball.
Repeat the same for the rest of the mixture. Now dip the balls in cornflour paste and roll it immediately on the powdered corn flakes.
Keep the corn flakes coated balls in the fridge for 10 minutes. Now deep fry the plantain stem balls in oil.noe the yummy easy cheesy balls are ready to be served.
Serve it with tomato sauce or mayonnaise.