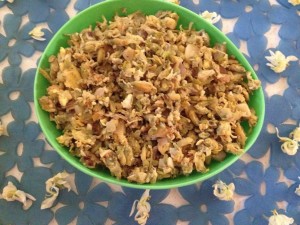 Preparation Time : 20 minutes
Cooking Time : 15 minutes
Serving : 4 members
Description
Murungga poo poriyal . Drumstick flower poriyal. Can't remember from where or whose recipe this is because haven't had this dish in my moms place or my hubby's place. But my instincts tell me it's from Coimbatore. My hubby loves this dish but the problem is we get to prepare this dish only when the flowers bloom in a particular season when the season is on there is always a white carpet of drumstick flowers on the ground all around the tree. It's a treat to the eyes.Very easy to prepare dish with very few ingredients.
Ingredients
| Ingredients | Quantity |
| --- | --- |
| drumstick flowers | 4 cups |
| small onions | 1 hand full chopped |
| garlic | 1/2 hand chopped |
| green chillies | 2 to 3 chopped |
| salt | to taste |
| eggs | 2 (seasoned with salt and pepper) beaten lightly |
| coconut oil | 2 tablespoons |
Method
Soak the drumstick flowers in salted water for 5 minutes . This helps small spider like white insects creep out of the flowers .
Rinse the flowers in water three times , changing water every time . Drain and put it into a non stick pan .
Top with chopped small onions , garlic , green chillies , salt to taste and little water .
Cook till the flowers are cooked and the water has evaporated . ( I do till this part of the recipe in advance , and the rest that follows latter just before serving as you get to serve the dish hot ) make a well in between the cooked flowers .
Pour the coconut oil in and heat the oil . Add the beaten eggs and scramble along with the flowers till the eggs coat the flowers well and the eggs are cooked .
Serve hot for lunch along with rice as a side dish .