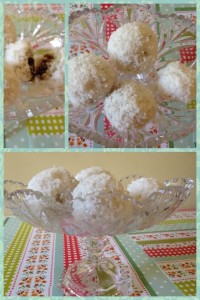 Preparation Time : 15 minutes
Cooking Time : 5 to 6 minutes
Serving : 8 members
Description
Sweet potato rice balls . This dish is my take on the malaysian dish onde onde.My co sister Farzanas grandmother is a Malaysian , once she got married and was into our family , every now and then we were introduced to all sorts of Malaysian dishes . But the problem was my co – sister didn't know anything about the dishes except for its name and of course eating it.I recently got the recipe for this dish from the net.sounded so simple and easy. Got some fresh sweet potato from the market other day and gave this dish a try. I followed as the recipe demanded and rolled the balls.dropped the balls into boiling salted water and was waiting for the balls to float on top.Waited,waited and waited no balls seem to float.Dug into the water to see all my balls dissolved in the water. Read the recipe once again to see where i went wrong. Every thing i did seemed right. Went through again and found out i used normal rice flour instead of glutinous rice flour.Dum me . Well i have never seen or heard about glutinous rice flour . So with easily available ingredients in our market i have made these .
Ingredients
| Ingredients | Quantity |
| --- | --- |
| sweet potato | 200 grams boiled , peeled and mashed |
| rice flour | 100 grams |
| palm sugar ( karupetti ) | 100 grams |
| coconut grated | 100 grams ( white alone ) |
| salt | a pinch |
Method
Mix salt and grated coconut in a bowl and set aside .
Mix mashed sweet potato and rice flour together adding little salt . Knead to get a dough , if its too dry add little water bit by bit .
If its too wet add a bit more rice flour . Make 12 equal size balls out of the dough . Flatten a ball and fill the Center with palm sugar small cubes . Roll them in your palms to form a smooth ball .
Do the same with the remaining dough and palm sugar . Steam these balls on a stove top for 5 minutes using an idli steamer or microwave for 2 minutes using a microwave steamer with 2 tablespoons of water .
( I did it in a microwave as I already had messed up with a lot of vessels while boiling the balls in water . ) dip the balls in some palm sugar syrup and roll in grated coconut evenly . Serve hot or cold .