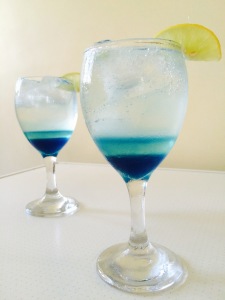 Preparation time     : 15 minutes
Cooking time          : 10 minutes
Serves                    : 4 members
Description
The word "Blue lagoon" strait away takes me to the English movie blue lagoon of 1980 in which Brooke shields and Christopher Atkins had acted in. The movie was so much talked about back then but we as kids were not allowed to watch the movie. I remember brook shields was the heart throb with her blue eyes, long dark golden hair and untouched lush thick eyebrows. Not having accessibility of things around like now a days, the one poster I got from Bangalore of brook shields was stuck inside my cupboard door to admire the flawless beauty. Long lost crazy days. Umm coming to this drink now… Summer is all about keeping things breezy and simple. So here's a mock-tail which is fast freshness  that's big on flavors and looks cool too. A ping of citrus, never cases to surprise me.. How a simple squeeze can take a drink from nice to sublime to savor the lighter side of deliciousness. This fantastically fresh and made in a flash mock – tail is a bevy of quick comfort to fill the summer table that will leave you feeling sated yet more energized.
Ingredients
| Ingredients | Quantity |
| --- | --- |
| Lime juice | 1 lemon |
| Sugar | 1 /2 cup |
| Water | 3/4 cup |
| Ice cubes | 3 cups |
| Blue crush | 2 1/2 tablespoons or blue food color- few drops |
| Sprite / 7 up | 1/2 litter |
| Lemon wedges and mint leaves | to garnish |
Method
Boil sugar and water together until sugar has dissolved and gets to a slightly gooey mass of sugar syrup. Remove from heat and cool completely. Chill four tall glasses in the freezer for ten minutes.
Place ice cubes into each tall glass half way through . Pour sugar blue crush or blue food color into each glass carefully making sure it does not touch the sides of the tall glass.
Pour 2 to 3 tablespoons of sugar syrup into each glass topping with a squeeze of lime. Gently with a inverted spoon in the glass pour sprite or 7 up gently making sure not to disturb the below layers.
Do not mix. Garnish with a lemon wedge and mint leaves. Serve immediately. You will get to see a thick blue layer on the bottom, then a light blue layer in between with a pure white top layer.