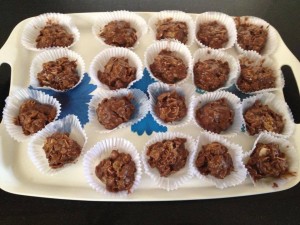 Preparation Time : 10 minutes
Cooking Time : 10 -15 minutes
Serving : 6 – 8 members
Description
Mars cornflakes crackle bites . A really simple four ingredient wonder recipe that I came across in UAE food guild which can be made with effortless ease . Wanted to give it a try immediately but as eid ul azha was to come in a few days , saved it for later and to be celebrated on that day . This was done in a jiffy  of 20 minutes . Served it to my hubby's niece azrin and nephew ahraf . They were like from where did you buy it and just didn't want to believe that I made These cute , little   party nibbles . This drool worthy dessert will feed a crowd in fine fashion . have a few left , ( even after we all almost had a few after every meal ) that's been packed for my girl ANISHA ( who is a chocoholic ) can't wait to get her verdict on this sweet culprit that is a complete seduction to all your Senses :-)) .
Ingredients
| Ingredients | Quantity |
| --- | --- |
| Mars chocolate bars | (200 grams ) 4 pieces chopped |
| Butter | 50 grams |
| Cornflakes | 2 cups |
| Almond flakes or chopped | 1/4 cup |
| Cup cake paper moulds | few |
Method
In a non stick pan melt butter and mars chocolate chunks and melt to get a nice , gooey sauce consistency in medium heat .
Then add the cornflakes and almond flakes . Mix well .
With the help of teaspoon drop 2 teaspoons of this mixture into a greased cup cake paper mould and chill it in fridge for 15 mins only . .If u chill for more time , it becomes like eclairs hard..not crispy crunchy .
Later u can store all in a air tight glass container.
Notes
Those who want kids to eat walnuts you can dip walnuts or whole almonds in this sauce….kids will  love it too…