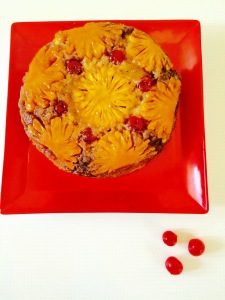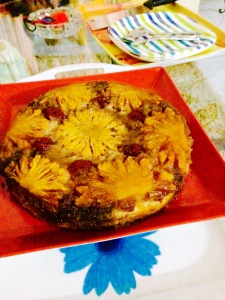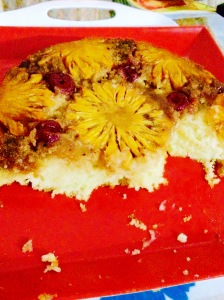 Preparation time :  30 minutes
Cooking time      :  50- 55 minutes
Serves                :  10 members
Description
Pineapples always remind me of one thing that I learnt as a kid day dreaming during a boring class. The fruit itself is so interesting that I made sure to be like it to wear a crown, stand tall ( though I am short ) and be sweet inside meaning with in myself. My crazy little mind did wonder a lot but this one though stuck to me as I felt it to be a bit sense able. Me and my weird stories.. Coming to the cake. I made this cake when I had hubby dear's cousin sister visit us. The cake was moist and tasted more like a pudding than a cake as the caramelize sugar that is let to drip down the cooked cake finally moisten's the cake that just melts in your mouth. A very indulging novel tea time treat cake that's worth every calorie which is rich in flavors and full of crunch, sweetness and a slight tang. The surprise element being there's no artificial coloring or flavor's added to the cake resulting in great results. This easily prepared well in advance cake makes for an impressive sweet finale. This flavorful power house dessert will instantly elevate almost any table from good to umm.. So get ready to turn your table's from plain blah good to ummm… Ummmm.. Ummm…
| Ingredients | Quantity |
| --- | --- |
| Butter | 1/4 cup |
| Brown sugar | 2/3 cup |
| Tinned pineapple slices | 9 |
| Tinned cherries | few |
| Flour / maida | 1 and a 1/3 cups |
| Sugar | 1 cup |
| Sunflower Oil | 1/3 cup |
| Baking powder | 1 and a 1/2 teaspoon |
| Salt | 1/2 teaspoon |
| Milk | 3/4 cup |
| Egg | 1 whole |
Method
Heat a nine inch baking pan over low heat. Melt butter and add brown sugar evenly. Remove from heat.
Arrange tinned pineapple slices in a decorative way over brown sugar. Place tinned cherries in the center of each pineapple slice.
Preheat oven to 175 degree Celsius. Beat egg, milk and oil together with an electric egg beater. Add sugar and beat well to combine. Top with flour, salt and baking powder. Beat well for three minutes.
Pour the batter over the set pineapple slices. Bake for 50 to 55 minutes or until a toothpick inserted in the center comes out clean.
Remove from oven and immediately place a heatproof ( ceramic )serving plate up side down over cake pan, turn the plate letting it sit on the bottom and the cake pan over the top.
Leave the cake pan to cool completely, letting the brown sugar mix and drizzle over the cake.
Remove cake pan. Serve warm or at room temperature. Store the cake loosely covered until to be had next.