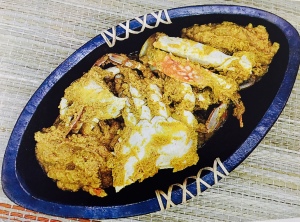 Preparation time  : 30 minutes
Cooking time       : 30 minutes
Serves                 : 3 members
Description
Goa always enlightens me with a holiday mood, carefree laid back days and good food. My first holiday to goa as a school girl with my parents were spent in the beach and swimming pool through out with good food in between. My brother and myself were tanned so much which took more than six months time to get alright. My second holiday to goa was with my parents and kids. We had such an awesome family time together visiting the local market, cooking, shopping and sight seeing. This time , I was mature enough to grasp about Goan culture and cuisine. Every meal that we had any where in goa was divine. Xacuti became our regular order from the menu card. Though it was served with a slight variation every where the base of the Xacuti remained same. My vegetarian daughter would gorge on the potatoes in the Xacuti. We all fell in love with the mighty Xacuti so much that we got packets of Xacuti masala powder on our return home. Now it's added to our regulars on the table and I make it with chicken, mutton, prawn and crab.
Ingredients to grind
| Ingredients | Quantity |
| --- | --- |
| Dry red chillies | 8 |
| Grated. Coconut | 4 tablespoons |
| Turmeric powder | 1 teaspoon |
| Cloves | 4 |
| Pepper corns | 10 |
| Cumin seeds | 1 teaspoon |
| Poppy seeds | 1 tablespoon |
| Fennel seeds | 1 teaspoon |
| Fenugreek seeds | a pinch |
| Garlic | 6 |
| Coriander seeds | 1 teaspoon |
Other ingredients
| Ingredients | Quantity |
| --- | --- |
| Crab | 5 |
| Onion | 1 chopped |
| Oil | 4 tablespoons |
| Salt | to taste |
Method
Grind all the ingredients together mentioned under the to grind column to a smooth paste adding little water.
Heat oil in a wide pan. Add onions and brown them. Top with the ground masala paste and sauté until oil separates.
Add the cleaned crab pieces, salt and little water. Mix well and cook to done for fifteen to twenty minutes. Serve hot.
Notes
The same method can be followed to make with chicken, mutton and prawns.
You can add potato cubes when making the same with chicken and mutton.
Can Add thick coconut milk extract at the end and bring to boil. This can be served as a curry.