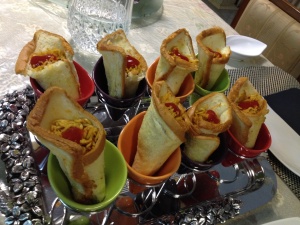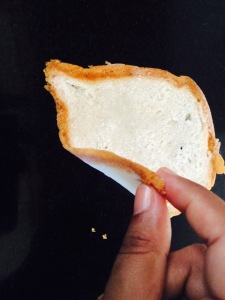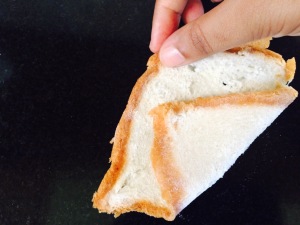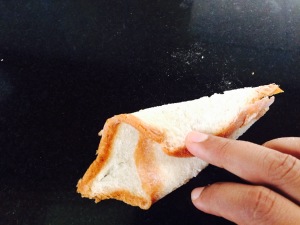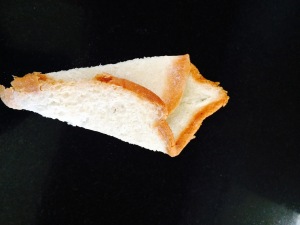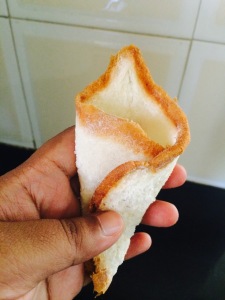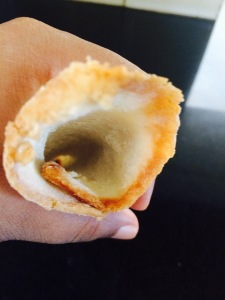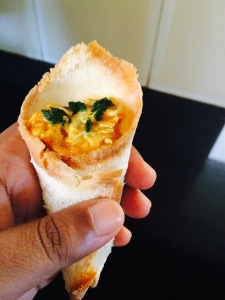 Preparation Time    : 40 minutes
Cooking Time         : 3-4 minutes of using an oven , 1 1/2 minutes if using a microwave
Serving                  : 6 members
Description
Bread has always been something that I have relished and enjoying in some form or the other. From having bread slices being soaked in piping hot chicken stew for dinner at my grand parents place in Palghat to eating freshly baked bread two weeks a day with home made ( oops boarding school mess made ) jam, omelet or egg curry . The mighty bread is taken for granted here at my in – laws place not sure why ? The bread is just not accepted as a staple that can be enjoyed in any form. But my love for bread has just got more and bigger as I started to bake more. Words can't be expressed to explain at seeing simple ingredients bonded together creating magic as bread and not to forget the aromatic scent  of baking bread that fills the entire house, road to the streets as well . I do try my best to cheat all at home to some how come up with new ways to impress them with bread based dishes. This bread cone idea was borrowed from a fellow foodie friend of mine . Made this stylish party starter for a high tea party at home and it was a super hit among the guests. As usual the others at home were like " it's bread ".  Well my fresh idea to cheat with a delicious treat of bread didn't work this time too. No way am I ready to give up as dollops of love is put into each dish of mine. So some day I believe and hope that the love will prove its way to all the hearts at home.
Ingredients
| Ingredients | Quantity |
| --- | --- |
| Sandwich bread slices | 6 |
| Flour / maida | 4 tablespoons |
| Salt | to taste |
| Water | very little |
| Butter at room temperature | 4 to 6 tablespoons |
Ingredients Filling
| Ingredients | Quantity |
| --- | --- |
| Boneless chicken | 1/4 kg |
| Thin Coconut milk | 1/4 cup |
| Ginger garlic paste | 1/4 teaspoon each |
| Salt | to taste |
| Turmeric powder | 1/4 teaspoon |
| Onions | 5 big chopped |
| Green chillies | 4 chopped |
| Mixed vegetables | carrots , beans , cabbage , green peas chopped and boiled in water with salt - 1 cup |
| Mint leaves | few |
| Coriander leaves | one hand chopped |
| Pepper powder | to taste |
| Oil | 2 tablespoons |
Method for chicken filling
Pressure cook cleaned chicken, coconut milk, salt, turmeric powder and ginger garlic paste for one whistle.
Bring to boil and Reduce the water.
Cool completely and shred the chicken to treads ( I run it in the food processor for a second ) .Heat oil in a non stick board pan.
Add onions and fry to translucent.Add green chilies , boiled chopped mixed vegetables, shredded chicken, mint leaves, coriander leaves, salt and pepper to taste.
Mix well and lower the flame and keep stirring for 3 minutes letting all the flavours infuse together.Remove from heat, cool and set aside.
How to proceed
Flatten sandwich bread slices with a rolling pin. Mix flour, salt and little water together to get a paste.
Fold the flattened bread slices to a cone shape. Seal the edges with flour paste . Keep aside for ten minutes.
Fill the cones with cooled chicken filling pressing with your finger or the back of spoon to reach the end of the bread cone.
Top with grated cheese. Brush cones with butter all over.
Preheat oven to 180 degree Celsius and bake for 3-4 minutes placing over a greased foil lined baking tray or can microwave for 1 to 1 1/2 minutes on high by placing the cones in between the round stripped microwave grill vertically. Serve hot.
Notes
Any filling of choice can be used. I use left over noodles, mashed potatoes, anything to everything possible.
Vegetarians can omit the chicken, use panner or soya chunks instead and follow the same recipe for a vegetarian version.
Can top with a dot of tomato sauce, grated cheese , olive etc ..