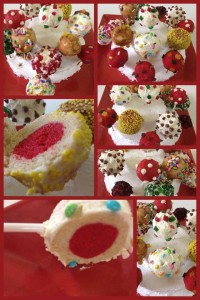 Preparation Time : 40 minutes
Cooking Time : 10 minutes if using store brought cakes
 Serving : 6 members
Description
Cake pops . Some thing I got to know by mistake , when I was in search of a good red velvet cake recipe in the google . Was so surprised and wanted to try it then and there as it looked and sounded so interesting . As this dish needs a lot of imagination , creativity which will for sure put people served spoilt of choice . Having no equipments needed for making the cake pops  , still went ahead making sure I will manage and bring the pops out in flying colours . My first problem was not having pop sticks . Just got some lollipops and chopped the sticks alone . I did use some tooth pick for some pops as the lollipop sticks were not enough . Then I had to make a  cake pop stand . Came up with an idea using thermocol sheets . Then for embellishments used chocolate chips , coloured cheery bits , coloured balls and coloured cumin sweets ( jeeraga muttai ) . The out come was so satisfying . I learnt a lesson that never ever complain about not being able to source ingredients at your place . Instead just go ahead substitute it with easily available ingredients locally which makes things much more easy. I made this when my kids were not around so wanted to share the calories . Sent it over to my friend Reshma as she is blessed with 3 lovely children and adding calories to her too  :-))))
Ingredients
Ingredients

Quantity

Lollipop sticks
( I got some lollipops and chopped out the sticks alone )
Pre- made cake
( any flavour of choice , I used vanilla sponge cake and red velvet cake . Just go ahead and cheat with ready made cakes ... No harm )
Cake pop stand
( I made one at home with thermocal sheets, my craft classes at school was put into use ) ,
Icing of choice ,
Embellishments
( I made use of all the locally available embellishments )
Step 1
          Break the cake up and whiz it in a food processor to creat small crumbs .
Step 2
For 2 cups of cake crumbs add 1/2 a cup of icing which is creamy like cream cheese frosting or butter cream .
Mix well to get it well combined . Add more cake or icing until you have a sticky mix that holds together but isn't wet .
Step 3
Roll balls using your hands or a small ice cream scoop to get a smooth finish .
Place the balls on a tray lined with foil paper and pop in the freezer for 30 minutes to get firm .
I placed a small ball of red velvet cake mixed with butter cream frosting in between the sponge butter cream mixture cake to add a surprise and more colour to some of the cake pops .
Step 4
Melt chocolate of choice in the microwave or double boil .
Place the melted chocolate in a deep mug or jar so that the cake pop can be dipped into the chocolate .
Dip the end of the lollipop stick into the chocolate and push it into a cake ball .
Dip the ball into melted chocolate , allow the excess to drip off and then place it into the styrofoam to dry .
Step 5
Decorate cake pops with embellishments as follows . Drizzle melted chocolate over in a contrasting colour . Sprinkle edible glitter , chocolate shavings , silver balls , colour bits , coloured cherry bits over the top of pops . Roll pops in sprinkles , chopped nuts etc …
Serve in a styrofoam , craft foam or in a designated cake pop stand . Can wrap each pop in a cellophane bag and tie it with a piece of ribbon .