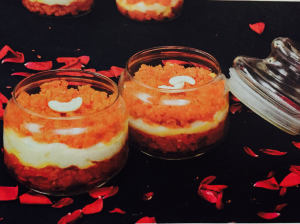 Preparation time  : 10 minutes
Cooking time        : 40 minutes
Serves                  : 8 members
Description
Any thing from desserts,salads, starters to main course served in a jar is so much in trend now a days. So why not try a jar dessert was the idea that popped up in mind. Having a lot of ladoos at home that were gifted by a cousin. I had to make use of them. What would pair well with a ladoo.. the mighty rabdi is the best said my inner instincts. Made a thick rabdi. Layered the two and this colourful jar dessert was born. The creaminess of the rabdi and the crispy moist crunch of the ladoo was a fantastic combination. I sent over a few to friends and relatives as I had five jars in hand. Saved just one for home. As I started to relish the dessert, I was like .. I should have saved two.. then it went back to.. thank god you have only one jar home. So less calories in take.. me and my monkey mind .. jumping from one jar to the other..
Shahi Boondi jar
Ingredients
| Ingredients | Quantity |
| --- | --- |
| Mothi choor ladoo | 6 broken down |
| Milk | 1 litter |
| Cardamom powder | 1 teaspoon |
| Sugar | 2 tablespoons |
| Cashew nuts , almonds and pistachio | peeled and chopped few to garnish |
Method
Boil milk and reduce it to half its amount. Add cardamom powder and sugar. Boil further and reduce it to 1/4 of Its amount. Remove from heat and cool completely.
Take a clean glass jar of small size, fill the bottom to 1/4 th with the Mothi choor laddu evenly. Top with cooled milk rabdi to 1/4 inch equal to the Mothi choor laddu' height.
Top again with Mothi choor laddu and another layer of rabdi. Make sure the top most layer is Mothi choor laddu.
Garnish with chopped nuts. Place in the refrigerator for six hours or more. Serve chilled.