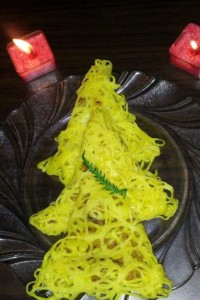 Preparation Time : 20 minutes
Cooking Time : 30 minutes
Serving : 6 members
Description
Recipe posted by rabiya rizwana for the competition. Her Description follows. This dish is also known as Malaysian lace pancake. I had this dish in my aunt's (sujabanu) house in chennai for the first time. I loved it so much that i kept asking for more and i even ate off my brothers share. The recipe was given to me by the same aunt ofcourse.Jalar murtabase are traditionally made with a specially designed cup. To make it less complicated i have described the dish in a simpler way. The original version only has few ingredients. I have added few more spices to make it appealing for the Indian taste buds.
Ingredients for Jalar Roti
| Ingredients | Quantity |
| --- | --- |
| All purpose flour | ¼ kg maida |
| Coconut | 1 large |
| Cumin seeds | 1 table spoon |
Ingredients for Filling
| Ingredients | Quantity |
| --- | --- |
| Minced lamb | ¼ kg(any filling can be used like chicken or beef or just vegetables) |
| onion | 2 medium sized |
| Chilli powder | as needed |
| Pepper powder | as needed |
| Cumin powder | as needed |
| Turmeric powder | as needed |
| Ginger and garlic paste | as needed |
| Salt | as needed |
Method
For the jalar roti grind the grated coconut and cumin seeds together, take the first and second coconut milk.
Add the maida to the coconut milk and grind it once again.
Filter the milk in a double layered strainer and ensure there are no lumps in the milk. The consistency of the batter should not be very watery nor thick like dosa batter.
On a non stick tawa pour a thin layer of the batter it should be as thin as a crepe.(but in the picture u can see that I have made it the traditional way using the special cup. Either way the taste is fantastic)
Do the same with the rest of the batter
Keep the jalar rotis aside.
In a pressure cooker put the minced meat,chopped onions and the rest of the spices .let it cook up to two whistles.
Take one jalar roti keep a little amount of the filling in the centre of the roti and fold it into triangles.
Take an egg add little salt and pepper and beat it well
Place the jalar that you have filled with the meat on the tawa and brush little egg on both the sides so that the edges are well sealed .keep it on the tawa for 5 seconds each side.
Now jalar murtabas are ready to be served.