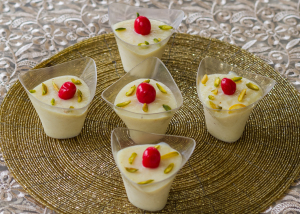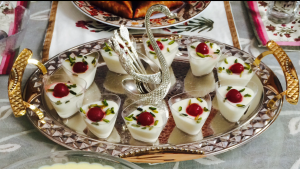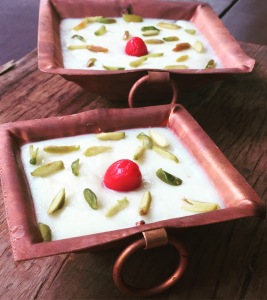 Preparation time : 10 minutes
Cooking time       : 15 minutes
Serves                  : 8-10 members
Description
An Arabic sweet dish that tastes very close to our Indian firni and kheer but with a totally another avatar. The rose flavour with the almonds give the right texture and aroma to the dish. The first time I made it, I was not sure if it would be liked by all but this simple dish was the talk of the table. I had set it in very tiny individual serving bowls thinking if it's not good each person gets to eat just two spoons full to gulp it in with out difficulty. To my surprise every one made sure to take a second helping. The simplest dish that i least had hope over won that day. Food always gives me a run to understand it… It's Some thing like being confused about the some one special always. One minute it's like I know in and out of him-(food) confidently and then the next second it's like is he -(food) telling me the truth -(taste wise)?
Am I being fooled? – (with the taste being bad)
what do I do now??? – (how do I get the taste right)
My love story with food is a never ending story that's been going on steady for ages now. No complaints as I am loving every moment of this love struck affair with food.
| Ingredients | Quantity |
| --- | --- |
| Milk | 3 cups |
| Rice flour | 1/4 cup |
| Cornflour | 1 teaspoon heaped |
| Ground almonds | 3/4 cup ( soaked in hot water whole for a minute , skin peeled , almonds dried and then ground to a powder with out water ) |
| Salt | a pinch |
| Sugar | 1/4 cup or more to taste |
| Rose water | 1 tablespoon |
| Rose essence | 2 to 3 drops ( optional but I use as the locally available rose water is not of good quality) |
Ingredients to garnish

| ingredients | Quantity |
| --- | --- |
| Pistachios | few skin peeled and chopped |
| Tinned Cherries | few |
Method
Dilute rice flour, corn flour, salt and sugar with 1/4 cup or more of the measured milk with no lumps.
Heat the remaining milk and bring to boil. Lower the flame and Gradually add the dilute rice flour paste, stirring vigorously making sure the mix has no lumps and the mix does not stick to the bottom. Cook for 5 minutes on low heat.
Add the ground almonds and keep stirring to mix well and get a smooth semi thick batter. Finally add the rose water and rose essence (optional) and mix well.
Remove from heat. Pour into a pudding bowl or individual pudding cups. Bring it down to room temperature, the crust will look set by now. Garnish and decorate with tinned cherries and pistachios.
Place in the refrigerator to chill for four hours or overnight. serve chilled.