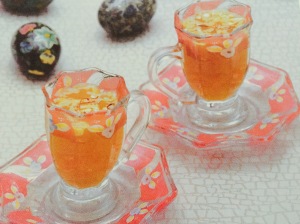 Preparation time : 5 minutes
Cooking time      : 5 minutes
Serves                : 2 members
Description
After a long tedious road trip from sri nagar to gulmarg in Kashmir. We were welcomed at the vintage hotel with hot Kashmiri kawa tea. I am not a tea person but in that cold and chill wether, I wanted to soothe myself with a hot drink. Took a cup and saw almonds and saffron floating. My mom with raised eyebrows gave a sign with out opening her mouth expressing the tea is too good. I took my first sip and it was refreshing with a new combination of nuts and saffron in it. I shamelessly had another cup too. I made sure to ask the waiter who came to pick up the cups after some time about what this tea's name is. He told "kawa". Now I wanted to know how it is made. Though we have access to a million recipes of any dish that we want to know about, there is nothing like getting to know a recipe through the concerned person who made it. I made sure to get the recipe from the chef there. Through out my gang ( parents, children and hubby dear ) were making fun of me about thi. Well only a food fanatic like me will know what it means to get a recipe, then try it out and share it with you all for free with a bonus of my thoughts and crazy stories attached with it. Kashmir with its abundance of natural beauty offered me a wide range of their authentic tea's too. That did get me addicted and yet another reason to fall in love over and over again with Kashmir.
| Ingredients | Quantity |
| --- | --- |
| Green tea | 1 teaspoon |
| Almonds | 7 peeled and powdered coarsely |
| Cardamom | 3 |
| Cinnamon | 1 inch piece |
| Sugar | 3 teaspoons |
| Saffron | a pinch |
| Water | 3 cups |
Method
Grind green tea, cinnamon and cardamom's to a coarse powder.
Boil 3 cups of water. Add the coarse powder. Boil for five minutes in low flame.
Strain the tea. Add sugar and saffron. Mix well. Garnish with almonds and serve hot.