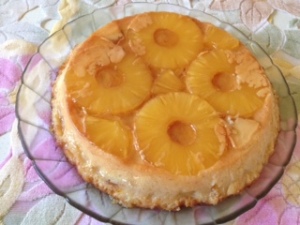 Preparation Time : 10 minutes
Cooking Time : 20 -25 minutes
Serving : 6-8 members
Description
Pineapples …. This rough , rugged , thorny fruit was always taken for granted by me . As , when a kid this one fruit was grown wildly on its own at my grand mothers back yard in Palghat . I still remember the numerous tears in my body caused by the leaves of this plant while playing around . The fruit was always there on the table for lunch or a brunch but never did it fancy me at any point . I preferred to eat the raw mangoes instead . Only after my married life did I realise the importance of this fruit as when ever needed … We had to buy it . Slowly started eating the fruit for the only reason of not wanting to waste it . The left overs were left to experiment with in the kitchen where initially what ever I made gave a sour taste . This pudding also was one such experiment where the entire pudding had to go into the bin . Latter got to know the flaw that raw pineapples used will give a sour taste later …so had to cook them a bit and then use in specific recipes .  Here I have used tinned pineapples that's hassle free and we all like to add our own personal touch isn't it ? Practically its fool proof and accommodating to most adjustments .  The best part of this classic dessert is its  delicate and has a slight wobble that defines its own signature flavour and distinct aroma .  With every error made .. that let way  to correct and learn more as well . The versatility is what makes it so special about this sinful indulgence .
Ingredient 
| Ingredient | Quantity |
| --- | --- |
| Sugar | 5 tablespoons |
| Water | 2 tablespoons |
| Tinned pineapple slices | 4 to 5 |
| Butter | 2 tablespoons |
| Condensed milk | 1 tin |
| Room temperature Milk | 1 tin of the condensed milk tin |
| Eggs | 2 |
| Vanilla essence | 1/4 teaspoon |
Method
Heat butter in a wide non stick pan . Add the pineapple slices and fry to a golden color on both sides . Remove and keep aside .
 Mix sugar and water together and bring to boil and caramelize it to a dark golden color syrup .
 Pour the golden sugar syrup into a pudding dish that can fit into your pressure cooker to be boiled .Arrange the pineapple slices over the caramelized sugar syrup in a decorative manner . Place aside for the caramel to set and harden .
 Blend together – milk ,eggs, condensed milk and vanilla essence to a runny smooth mixture .
 Gently pour over the set pineapple caramel . Cover the pudding dish with a lid or foil paper . Place inside the pressure cover over a water bath of around 3 cups on top of a small stand for the pudding vessel to sit firmly over .
 Close the pressure cooker with its lid and pressure cook for three whistles . Once the whistle sound subsidies open the cooker , remove the pudding carefully and cool down completely.
Place in the refrigerator to chill for six hours or over night . Run a wet knife all over the edges of the set pudding . Invert it over to a serving platter ,cut and serve in style .