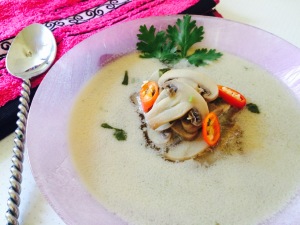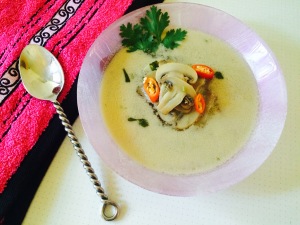 Preparation time :  10 minutes
Cooking time      :  15 minutes
Serves                :  4 – 6 members
Description
Thailand always relate's to sun, light green sea, crowded, hot and traffic to me. It was one among the few countries I got to visit as a newly married 14 year old innocent girl. Days of being nothing, not knowing your likes, passion and mainly your own self. I remember eating Indian food through out the trip. So my knowledge of Thai food was nil until recent when I first got to try Thai red curry at a restaurant. I did try making Thai green curry at home later and that was it. My previous trip to London, my brother did take us out for dinner to a Thai restaurant named champor champor at Weston street. A cozy small eat out that served authentic Thai food. Everything we ordered was excellent. The soup sure did pop in my mind every now and then. So this recipe is just my interpretation of the soup I had there. Pretty close but yet to perfect the soup though. Tangy with the scent of lemon grass and the flavor of coconut milk sure makes you want to have more soup. Now the crazy part of how the world connects from a Thai dish had in London that is being tried out in a South Indian home and finally being shared to the world at large. Amazing isn't it?
| Ingredients | Quantity |
| --- | --- |
| Water | 7 cups |
| Maggi stock cube | 1 |
| Lemon grass | 1 stalk crushed |
| Lime leaves | 2 thinly sliced ( leaves from the lemon plant ) |
| Ginger | 1/2 inch piece crushed to small bits |
| Red chilly | 1 sliced |
| Mushrooms | 10 sliced |
| Thick Coconut milk | 1 cup |
| Salt | to taste |
| Fish sauce | 1/4 teaspoon |
| Lime juice | 1 tablespoon |
| Coriander leaves | few to garnish |
Method
Boil water, stock cube, lemon grass, ginger and chilly together for five minutes.
Add sliced mushrooms and cook further until cooked.
Stir in thick coconut milk, fish sauce and lime juice. Continue cooking for another 3 minutes.
Taste and adjust seasoning and lime juice. Remove the lemon grass stalk.
Serve hot with a garnish of red chilly slices and chopped coriander leaves.
Notes
I used dried lemon grass stalks as fresh ones are not available at my home town. At times I do substitute with lemon rind as well but the flavor does differ.