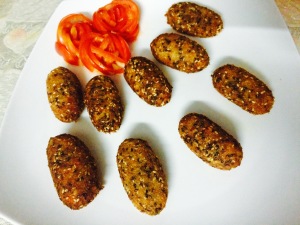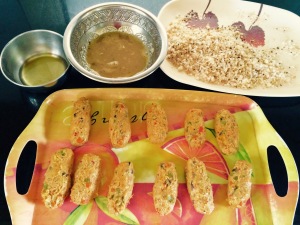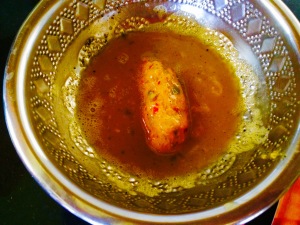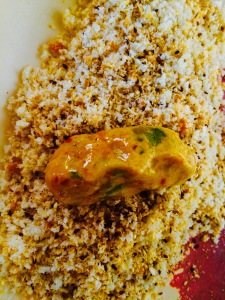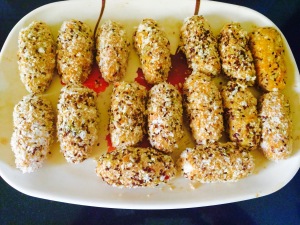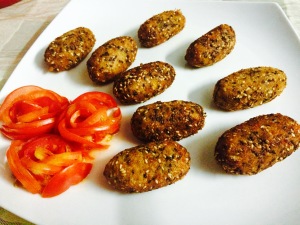 Preparation Time   : 35 -minutes
Cooking Time        : 20 minutes
Serving                  : 8 members
Description
The first day of the holy month of Ramadan where I had to present a snack that's mind blowing, new and tasty with the condition that I cannot taste it as I am fasting. My mind was stuck to a few images I got to see that morning about casual truths of life with all emotions captured perfectly with no bar to caste, greed and colour. So I wanted to replicate that mood of mine on a plate. Well how do I do that ?? I made a white sauce also known as béchamel sauce which is the mother sauce in French cuisine that is used as the base for other sauces. Added cheese and Italian herbs for the Italian twist in it. For the universal touch added bread in it and used it for coating as well. Now every thing seemed to be very European…. Umm.. To get the Asian side in added black and white sesame seeds ( for the colour too ) to coat the rolls. Deep fried and asked my cook to taste it. She goes on to say" amma super"..That's what she says for all the dishes given to taste. As usual this snack was disturbed to cousin's and now our turn for testing.I waited until I get an approval from hubby dear. He was like after eating these chicken what ever… Every thing else tastes stale.My eyes popped out as this is what I wanted to represent in the plate for this was the same feeling I had in me after seeing those images. I tasted it and though it was a complete fusion of too many cuisine's, they are fell in place comfortably with class. When food can do wonders, I guess we people all around the world also can do so. Isn't it ???
ingredients
| ingredients | Quantity |
| --- | --- |
| Boneless Chicken ( diced and cooked along with ginger + garlic paste | 1/4 kg |
| Ginger + garlic paste | 1/4 teaspoon, ( for chicken ) |
| Boiled mixed chopped vegetables | 1 cup ( beans, carrots, cabbage, capsicum,mushrooms, sweet corn, green peas ) |
| milk | 1 cups |
| refined flour | 2 tablespoons |
| butter | 2 tablespoon |
| Cheese slice | 3 grated |
| salt | to taste |
| Chilli flakes | to taste |
| White pepper | to taste |
| Mixed dried herbs( oregano, thyme, rosemary, dill, basil ) | a pinch of each |
| Bread slices | 12 + 6 Grind to a coarse powder separately |
| Black sesame seeds | 1 tablespoon |
| White sesame seeds | 2 tablespoons |
| Oil | to deep fry |
Method
Heat and Melt butter in a wide pan.add refined flour,saute a little and add the milk very gradually,stirring vigorously all the time making sure no lumps are formed.
Bring to a boil, lower the heat and simmer for 5 minutes, add the salt,white pepper,chilli flakes,dried herbs,chicken and boiled vegetables. Mix well and boil till a thick gooey sticky consistency is obtained.Add cheese slice grated and mix well. Remove from heat and cool completely.
Beat an egg with salt and pepper to taste. Mix fresh bread crumbs ( 12 slices ) with salt to taste , white and black sesame seeds. Place over a flat plate.
Add 6 bread slices coarsely powdered to the cooled chicken mixture and mix well. Check seasoning. Take a lemon size ball and roll into finger long round rolls with the help of greased hands.( the mixture might  be sticky but it does get to the roll shape, you can add more bread coarse powder to remove some moister if you want )
Dip each roll into beaten egg with salt and pepper to taste.Then roll over the fresh bread crumb sesame mix , making sure it is well covered all over. Do the same to all the chicken mixture. Place in the refrigerator for 30 minutes.
Heat oil to deep fry over medium heat. Deep fry to a deep golden colour over medium heat making sure not to burn the rolls. Drain and serve hot with tomato sauce.