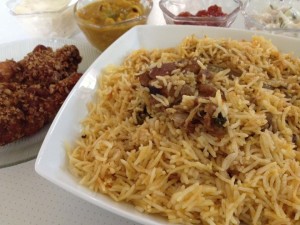 Preparation Time : 45 minutes
Cooking Time : 45 minutes
Serving : 4 to 6 members
Description
Mutton Biriyani . The most requested recipe in demand of SautefryNBake. I have been wanting to post this recipe for a long time but thinking about the lenghthy procedure required in making a good biriyani with loads of patience which counts in writing a lengthy recipe as well. The lazy bug in me just didn't let me do it all these days. Well today being a Sunday thought i should work on the mighty biriyani and post finally.It's taken me this long to prepare from early morning till now to work on the recipe write up.Every district and house hold has its own recipe for a biriyani and the accomplishments through out India.Well here in Tamilnadu also it's the same. At moms place they use jeera sala (jeeraga samba) rice with lesser meat proportion and mix oil and ghee together with the whole spices ground which gives it dark brown color and accomplished with an onion raitha (thayir chutney) dalcha (sambar with mutton fat and bones) , chicken 65 or a chicken gravy ,boiled egg , a white pumpkin sweet (pusanikka meta)and a payasam as a dessert . At my in-laws place biriyani is supposed to be made only with basmati rice (any other rice used is considered cheap and a sin)with lot of meat and ghee alone Accomplished with onion raitha,dalcha,chicken 65 , tomato or beetroot jam,boiled egg and a phimi as a dessert. Well the results of course the more calorie counted in -laws biriyani tastes better (no offense Palghat people).I learnt to make biriyani from my mother – in – law who is an expert but the problem is she doesn't know how to cook anything in small quantities . So the flaw (of cooking in huge quantities)continues with me to as i was living together with them in a joint family for 18 years.Well now i am just their neighbour that's the only difference. Happy cooking to all with loads and loads of patience and a lot of love put in.
Ingredients for Biriyani
| Ingredients | Quantity |
| --- | --- |
| Cleaned Mutton | 700 grams , ( cut into big pieces ) |
| Basmati rice | 2 1/4 cup ( I use India gate classic brand ) |
| Onion | 3 big sliced |
| Tomato | 3 small chopped |
| Green chillies | 8 to 10 slit |
| Coriander leaves | 3 tablespoons chopped |
| Mint leaves | 3 tablespoons whole |
| Cardamom | 2 |
| Cloves | 2 |
| Cinnamon | 2 one inch pieces |
| Ginger and garlic paste | 1 tablespoon each |
| Ghee | 3/4 cup |
| Curd | 3/4 cup |
| Salt | to taste |
| Turmeric powder | 1/4 teaspoon |
| Chilli powder | 1/2 teaspoon |
| Cashew nuts | 10 |
| Coconut | 2 tablespoons |
| Rose water | 1 tablespoon |
| Saffron | 2 pinches soaked in 1 tablespoon of hot milk |
| Lime | 1/2 juice |
Ingredients for spice stock
| Ingredients | Quantity |
| --- | --- |
| Water | 4 cups |
| Cinnamon | 4 |
| Cloves | 4 |
| Cardamom | 4 |
| Bay leaf | 2 |
Preparation to be done before you start
Wet the whole spices in 1/4 cup of water , so that they don't burn when put into hot ghee .
Dilute ginger and garlic paste with 1/4 cup of water and add to the biriyani as recipe demands so that the colour of the biriyani stays mild with out a burnt dark colour .
Marinate cleaned meat with curd , turmeric powder , chilli powder and salt .
Grind coconut and cashew nuts together to a smooth paste and dilute it to a semi thick flowing consistency so when you add it to the mutton gravy it mixes well with our lumps .
Boil together all the ingredients mentioned for the spice stock for 10 minutes , covered . Allowing all the flavours to infuse into the water . Drain and measure 2 1/2 cups of stock and add to the meat as recipe demands . * keep the stock covered until required for the recipe * .
Wash and soak basmati rice in water .
Important tips
Keep stirring the ingredients every one minute once making sure you don't burn anything at the bottom until you add spice stock .
The same applies after you add cashew nut , coconut paste .
Once the soaked rice is added toss gently once . Results you get whole grains of cooked flaky rice not broken .
Method
Heat ghee in a pressure cooker . Add whole spices ( cinnamon , cardamom and cloves ) which are wet .
Once they crackle add onions and fry to golden brown in colour for about 5 minutes . Add half of mint leaves and fry for 1/2 a minute .
Top with diluted ginger and garlic paste . Fry till oil floats on top , stirring occasionally every 30 seconds once . Add tomatoes and green chillies .
Sauté till the tomatoes break down and let's its juices out . Top with marinated meat , coriander leaves and mint leaves . Toss well , sauté for 5 to 8 minutes till the meat changes its colour and all the flavours infuse together and ghee floats on top .
Stir ever one minute once making sure the bottom dose not get burnt . Pour the spice stock ( 2 1/ 2 cups ) and mix well .
Pressure cook for 3 whistles or until meat is cooked through . Add the diluted cashew nut coconut paste , rose water and lime juice . Mix well and bring to boil . Taste and adjust .
The salt , sourness and hotness should be more than required , only then when cooked with rice will the biriyani taste perfect .
Drain and add the soaked basmati rice . Pour the soaked saffron milk mixture over the rice and toss well once gently .
Pressure cook for one whistle . Simmer for 5 minutes . Switch of flame and wait for the whistle to settle down . Open the pressure cooker , toss gently .
Serve immediately piping hot with onion raitha and other accomplishments .