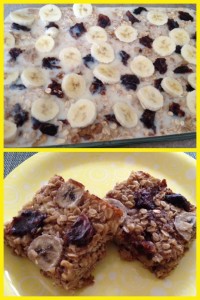 Preparation Time : 20 minutes
Cooking Time : 40 minutes
Serving : 4 to 6 members
Description
Baked Oats with fruits and nuts.This is a very easy and healthy breakfast dish. This can also be a good snack. Especially working people can make this ahead of time and eat it on the go! You can make this dish with a variety of nuts and fruits. I have used dates and walnuts in this recipe. You can add dried coconut, dried apricots, fresh strawberries, blueberries, any nuts. It is a very simple recipe. I love this dish because its easy to make and diet friendly.
Ingredients
| Ingredients | Quantity |
| --- | --- |
| Rolled Oats (This is thicker and fuller than instant oats) | 2 Cups |
| Brown Sugar | 1/3 cup |
| baking powder | 1 teaspoon |
| cinnamon | 1 teaspoon |
| salt | 1/2 teaspoon |
| walnuts / almonds (you can add both or either one) | 1 cup |
| pitted dates | 1 cup |
| milk | 2 cups |
| egg | 1 |
| butter melted | 3 tablespoon |
| vanilla extract | 1 tablespoon |
| ripe banana sliced | 1 |
Method
Mix all the dry ingredients. Oats, Brown sugar, Baking powder, cinnamon, salt, nuts. In a separate bowl, add the egg and beat well, then add butter, vanilla essence and milk to it and mix well.
Grease a pan well with oil or butter. Spread the dry mixture.Pour half the liquid mixture to it.
Then add chopped dates and sliced bananas on top as shown in the picture. Then pour the remaining liquid on top.
Preheat the oven to 375 deg. F and bake it for 35-40 mins.
After its done, let it cool. Cut into squares or rectangles and store in the refrigerator. When you are ready to serve/eat you can warm in the oven for 2 mins.
Its great when ate warm or room temperature.