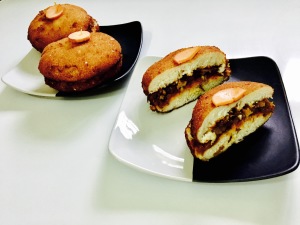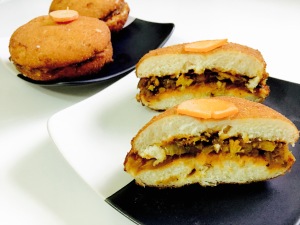 Preparation time : 25 minutes
Cooking time      : 20 minutes
Serves                : 4 members
Description
The mighty buns always bring in an nostalgic warmth to me. It was always fed to me as a sick little girl dunked into hot tea or sweet milk. I remember hesitating to eat it from any one other than my dad. He would make sure to feed me and then go for work. Every night before he is home myself and my brother would be in deep sleep. He would check us and then tuck in our bed sheets over us properly and then go to bed. This was a regular thing every night. Oops… my mind seems to be taking me away from the main content the bun here. I had a lot of left over buns at home. Here only my daughter enjoys eating them soaked in hot firni. Wanting to use them up in a different way.. my mind went to the cliche burgers .. then an idea popped up.. why not deep fry the buns. There I got hold of a good twist to be done. I did so and served it as an evening snack. They vanished with in seconds. Crispy crust with a soft inside along side the spicy filling with a slight burn on the tongue was a perfect like a match made in heaven. There after when ever I serve these buns.. I sure have raised eye brows following with a recipe please.
Ingredients for the filling
| Ingredients | Quantity |
| --- | --- |
| Chicken or meat mince | boiled 1/4 kg boiled |
| Ginger garlic paste | 1/8 teaspoon each |
| Salt | to taste |
| Turmeric powder | 1/4 teaspoon |
| Onions | 5 big chopped |
| Green chillies | 4 chopped |
| Mixed vegetables | Carrots , beans , cabbage , green peas , capsicum ( red , green , yellow ) |
| Mushrooms chopped and boiled in water with salt | 3 cups |
| Celery | Chopped 1 teaspoon |
| Tomato sauce | 1 teaspoon |
| Light soya sauce | 1/4 teaspoon |
| Vinegar | 1/4 teaspoon |
| Red and green chilli sauce | 1/4 teaspoon each |
| Pepper powder | to taste |
| Red chilli flakes | to taste |
| Oil | 2 tablespoons |
Method for  filling
Heat oil in a non stick pan. Add onions and fry to translucent.
Add green chilies, boiled chicken or minced meat, boiled chopped mixed vegetables, celery, salt, chilli flakes and pepper to taste.
Add all the sauces and vinegar.
Mix well and keep stirring for 3 minutes letting all the flavours infuse together.
Remove from heat, cool and set aside.
Other ingredients
| Ingredients | Quantity |
| --- | --- |
| Buns | 4 |
| Eggs | 2 beaten |
| Salt | to taste |
| Pepper | to taste |
| Bread crumbs | 1 cup |
| Butter | 3 tablespoons |
| Oil | to deep fry |
Method
Beat eggs with salt and pepper to taste. Dip the buns into beaten eggs and coat over bread crumbs making sure it's coated well all around. Do the same to all the buns.
Heat oil to deep fry. Deep fry the bread crumbs coated buns in medium hot oil to crisp and golden. Strain and cool.
Cut the crispy, cooled deep fried buns into two equal halves horizontally. Spread butter on the inside cut parts. Spread 2 tablespoons of filling inside and close the bun. Insert a tooth prick in the center.
Decorate with a carrot slice on top of the tooth prick and serve warm with tomato sauce.