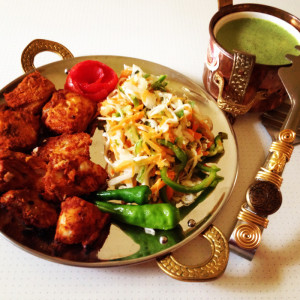 Preparation Time : 4 hours
Cooking Time :10 to 12 minutes
Serving : 6 members
Description
With the healthy bug on a high at home , the kitchen is on full swing experimenting healthy recipes to bring about smiles in the dining table as usual . A hard task to crack with majority of the trials resulting in the bin and by fluke at times it gets on to the dining table . To add upon this I had to cook some thing with fish that has to be healthy , tasty and looks appealing to the eyes as well . Broke my head and then suddenly the bulb moment happened in mind that grilling is healthy . What a relief it was but to be on the safer side just stuck to a known recipe . So my age old tandoori chicken recipe that is succulent , mildly spiced , grilled and the best known dish in the entire Indian cuisine came handy but with a twist of using fish instead of chicken . Cut down all the ingredients to 1/2 the amount that I usually use for chicken and added a little bit of onion seeds to take away the fishy smell . Went ahead and the out come was lip smacking good with a seasoning help of onion seeds to bring out the unique flavours of this dish which when served was empty in seconds . This can be served as a starter as part of a large festive meal or as part of a tandoori platter mixed with other grilled meats like in leading restaurants . Was so very happy about this dish and thrilled about the fact that these sort of sumptuous dishes can easily be made in a modern home kitchen that I shared the picture with my friends and cousins . My best buddy Gazeena sulu kunahmed liked the crockery used and called me immediately to ask from where I got it . I have promised her to get her a similar serving platter set on my next visit to her place . Surprised about how much can two souls share in common :-)) as even I get weak in the knees seeing such lovely crockery and traditional kitchen wear .
Ingredients
| Ingredients | Quantity |
| --- | --- |
| Boneless fish | 1/2 kg ( sheer with out skin and bones ) |
| Butter for basting | 2 tablespoons |
| Chaat masala powder | 1/2 teaspoon |
| Cream | 1 teaspoon |
| Garlic paste | 1/4 teaspoon |
| Ginger paste | 1/4 teaspoon |
| Lemon juice | 1 teaspoon |
| Red chilli powder | 1 teaspoon or to taste |
| Salt | to taste |
Ingredients for First marination
| Ingredients | Quantity |
| --- | --- |
| Cumin powder | 1 teaspoon |
| Garam masala powder | 1/2 teaspoon |
| Ginger paste | 1/4 teaspoon |
| Garlic paste | 1/4 teaspoon |
| Lemon juice | 1 tablespoon |
| Oil | 1/ 4 teaspoon |
| Red chilli powder | 1/2 teaspoon or to taste |
| Saffron | a pinch |
| Hung curd | 1/2 cup |
| Kalongi ( onion seeds or omam in Tamil ) | 1/4 teaspoon |
Method
Mix salt , red chilli powder , ginger garlic paste and lemon juice . Rub this paste over the cleaned fish and set aside for 30 minutes .
Whisk hung curd in a large bowl , add all the ingredients for marinade together .
Add this marinade to the fish and mix well . Set aside to marinade for 3-4 hours in the refrigerator .
Preheat oven to 175 degree Celsius .
Skewer each piece of marinated fish leaving a gap of 1/4 inch between each piece . Keep a tray underneath to collect the excess drippings .
Roast for approximately for 6 -8 minutes or until cooked in the pre heated oven . Baste with butter and roast for another 3 minutes .
To serve
Remove the fish from the skewers , arrange on a platter . Sprinkle chat masala powder and cream ( I avoided the cream ) .
Garnish with onion rings and lemon wedges . Compliment with raitha or a fresh salad .