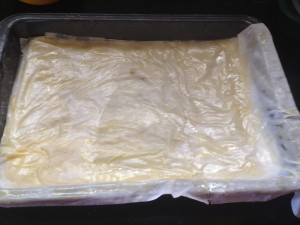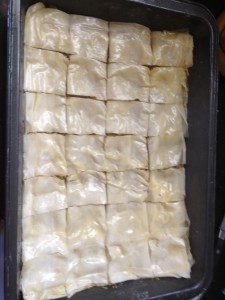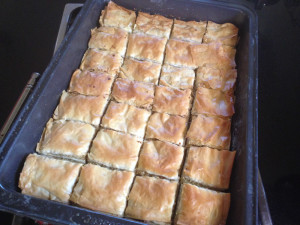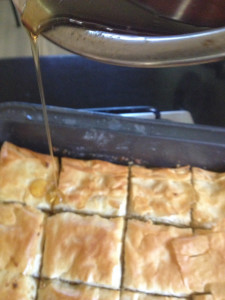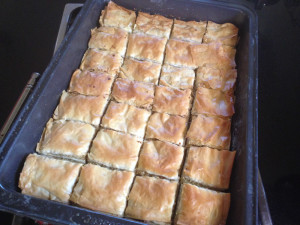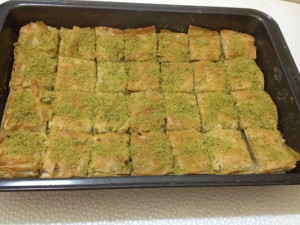 Preparation Time : 4 hours
Cooking Time : 1 hour + 10 minutes for the syrup
Serving : 8 members
Description 
"Baklava " I found this word so very difficult to memorise as it sounded wired and different to me the very first time . But the taste just didn't let go of my soul as I was often rekindled with its crisp exterior with a satisfying texture , rich nutty middle and a sticky aromatic bright flavoured syrup that sure will unshackle your palate  . Till date I just can't figure out what's so inviting that makes me a die heart fan of this fatty culprit . I was introduced to this mighty sweet by my cousins Aashik and Fazeem who had bought a huge box full of baklava on a trip to the U.S . I remember , it was an assorted sweet box  and I just could not stop with two , wanting to taste all the assorted ones . Not knowing from where the dish originated or how they prepare it , used to just wait for the opportunity to have a few free baklavas always ( shameless me :-)) getting a real taste of a dish means travelling there , that's where you will find the truest expression of its flavours , dining customs and whole way of thinking about food . To me it's all done at home in front of my telly and that's how while flipping channels came across a programme where they showed how baklava was made . Pains taking for sure , no wonder it tastes so good . Took note with out any precise measurements and that's it . The lazy bug in me just didn't let me want to try this dish out . My daughter Anisha also with utter excitement got a recipe from her collage library for baklava  , that was also saved but not put to use . Finally came across this recipe in the world wide net , saved it as usual . From then on any gourmet store  I went home shopping for ,the first thing in my to search list was phyllo pastry . This search went on for days to months to years from Coimbatore to Cochin to chennai to Mumbai to Pune and where ever possible . Did try my luck with my NRI relatives and friends but nothing worked . One fine day in chennai at AMMA NANA gourmet store ( with a confused state of mind , should I ask or not . As it's always sorry mam ) Then I compromised  saying to myself , no harm in asking . Asked " do you have phyllo pastry and the lady in the shop just pointed her fingers towards the first floor . Checked at the first floor and the man in counter just pulled a long blue coloured box  from the freezer and gave it to me with num reactions . I took it and jumped up ( seriously I did ) with a board smile and the num guy in counter controlling his laughter just smiled . I made sure to get another one as well . Stocked it in my freezer at home and felt proud as if I had accomplished the wish of owning a solitaire diamond was done . Waited for a real good celebration to try this recipe and made it following the recipe religiously to the core ( except for my cheat's way of using the ready made phyllo pastry part ) for the first anniversary celebration of sauté, fry n bake . The results were more than perfect as even fussy hubby dear approved the baklava but I was dead nervous as I had Saaliha azim who has been living in Dubai through out her schooling and knows the real taste of this Middle eastern sweet treasure. I just pretended to be calm and composed when she was tasting until her verdict was out . She liked it and complimented saying it tastes really authentic . ( hope she meant it for real ) . Showed the pictures to my children and parents . My mom was flying high and extremely proud that her daughter has made baklava on her own that she kept telling tom , dick and Harry ( any one and every one ) about this , that embarrassed me a lot . I had no other option other than to make another batch to cater to my children and mom specially . Well only if you have eaten a baklava will you know why this middle eastern icon sweet has earned it's spot in the global classics canon .
Ingredients for the dough
| Ingredients | Quantity |
| --- | --- |
| All purpose flour | 1 1/3 cups |
| Salt | 1/8 teaspoon |
| Water | 1 tablespoon (more if needed) |
| Oil | 2 tablespoon |
| Apple cider vinegar | 1/2 teaspoon |
Ingredients for the syrup
| Ingredients | Quantity |
| --- | --- |
| Honey | 1/2 cup |
| water | 3/4 cup |
| Sugar | 3/4 cup |
| Cinnamon | 2 " Piece |
| Cloves | 5 to 6 |
| Fresh orange peel | 2 " Piece |
Ingredients for the filling
| Ingredients | Quantity |
| --- | --- |
| Powdered cinnamon | 1 teaspoon |
| Allspice powder | 1/4 teaspoon |
| Coarsely powdered almonds | 1/3 cup |
| Coarsely powdered walnuts | 1/3 cup |
| Coarsely powdered pistachios | 1/3 cup |
| Granulated sugar | 1/4 cup |
| Ghee/ clarified butter (more if you need it) | 1/3 cup |
Method
Make the Phyllo dough. You can knead the dough by hand or using the food processor as I did.  Put the flour and salt in the processor bowl and pulse a couple of times to mix. Then combine the water, oil and apple cider vinegar ina small bowl and add to the flour.
Knead until it comes together as a dough that's sticks together initially and then becomes a smooth and elastic dough. Add a a tablespoon or so of water if your dough seems a little on the drier side.
Shape the dough into a ball and place in a bowl coated with oil. Roll the dough till it is well coated with the oil and cover the bowl with plastic wrap. Let it rest for about 2 hours or longer. I ended letting my dough rest for about 6 hours before I started rolling it out!
Now its time to start rolling out the dough as thin as you can. Divide the dough into 4 or 5 portions of equal size. Work with one portion at a time keeping the others covered so they don't dry out.
Place the dough on a well-floured surface and keep rolling out, dusting with flour whenever necessary, until you have rolled it out as thin as you can. Remember to also dust your palms and the rolling pin with flour.
Lift the rolled out dough and stretch it on the backs of your hands as you would a pizza dough, just helps make it that much thinner. Otherwise just lift it up and carefully stretch it using your fingers without tearing it. Your dough should be thin enough to be almost transparent.
Set aside the rolled out dough sheets on a well-floured surface. Repeat the process until your dough is used up. Flour well between each sheet so they do not stick to one another.
You will not need to cover your dough with a wet cloth, as you do with boxed dough, it is moist enough that it will not try out. If you can make your Phyllo about the thickness of 2 sheets of copy paper and evenly rolled then that's perfect.
I divided my dough into 4 equal portions and then rolled each portion out into a square about 12" by 12". Then I cut it into 4 equal squares. This gave me a total of 16 layers (each 6" by 6") which I used as 4 layers of 4 sheets each for my Baklava.
Method
You can make the syrup and the filling while the dough rests. To make the syrup, combine all the ingredients for the syrup in a medium sized pan/ pot and bring it to a boil, stirring until the sugar has dissolved.
Turn the heat to medium and let the syrup boil for 10 minutes. Stir occasionally. Take it off the heat and strain out the solids. Keep the syrup aside until required. Do not chill but let is stay slightly warm.
Now make the filling. Keep aside about 2 to 3 tbsp of the powdered pistachios and then mix together all the ingredients for the filling in a bowl, except the ghee/ clarified butter.
Method
Assemble the Baklava. Warm the ghee/ clarified butter slightly to make it easier to brush on. Brush the bottom and sides of your baking dish with ghee/ clarified butter. Place one sheet of Phyllo dough in the bottom of your baking dish.
Brush it lightly (but well) with the ghee/ clarified butter. Place another sheet of Phyllo and brush with the ghee/ clarified butter again. Repeat this with three more Phyllo sheets and brush each layer with the ghee/ clarified butter.
Spread one third the nut-spice mixture in a uniform layer. Then once again layer 4 sheets of Phyllo like before. Spread another one third portion of the nut-spice mixture.
Once again layer another 4 sheets of Phyllo and then layer the remaining third of the nut-spice mixture. Top with 5 layers of Phyllo and finish off by brushing the top most layer of Phyllo well with the ghee/ clarified butter.
You should have a 5-4-4-5 construction of Phyllo pastry layers (I used 4 sheets in every layer), though you can use as many layers as you want. Tuck the edges neatly suing a knife or spatula.
Using a very sharp knife, cut the Baklava from the top through to the bottom, into desired shape and number of pieces. I cut mine into 16 squares.
Now bake this at 180C (350F) for about 30 minutes and then take it out.Cut through the Baklava once again to make sure the cuts go all the way down to the bottom of your pan.
Return the Baklava to the oven and bake for another 30 minutes or until the top is a beautiful golden brown.
Once the Baklava is done, take it out and gently pour the syrup evenly on the top of the hot Baklava making sure it goes through all the cuts.
Pour as much as you can without letting the Baklava float in the syrup (I poured almost all the syrup I made, less about 2 to 3 tbsp of it). The syrup will soak into the Baklava during its overnight rest making it moist and juicy.
Method
Let the Baklava cool and then cover it. Let it sit at room temperature overnight. The Baklava will have soaked up the syrup. Store and serve at room temperature, after dusting the top of each piece with the reserved powdered pistachios.
You can warm it very slightly before serving if you prefer.
The Baklava will keep at room temperature for about a week in an airtight container. It can also be stored in the fridge but warm it up before serving or it will be very hard. Serve the Baklava with coffee as a snack or as dessert.
This recipe makes 16 small pieces.
Tips
     1.Remove all your rings, bangles and bracelets or any jewelry that might snag the dough before you start working on it. The dough becomes very    fragile as you roll it out and you want it to tear as little as possible, preferably not at all.
     2. Check that you cut out your Phyllo to the exact measurement of your baking dish. A pizza cutter is less likely to tear the Phyllo than a knife while cutting it.
     3. Small tears in your Phyllo are ok, and your dough will roll out thinner and easier with practise. Just try to keep a couple of "unblemished/ not-torn" sheets for the top most layers for a good finish to your Baklava.
    4. Use a wooden dowel or a thin wooden rolling pin to roll out the dough. This makes rolling out much easier and you will be able to roll out the dough quite thin.