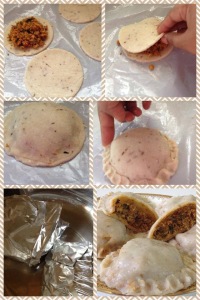 Preparation Time : 30-40 minutes
Cooking Time : 25- 30 minutes
Serving : 4 -5 members
Description
Meen pathiri . An authentic Malabar recipe that I first tasted at moms place , when we had a new cook appointed from Kerala . Her version was a bit different as she had made a filling with onions and tomatoes separately and placed a whole piece of fried fish in between two rice flour pathiris and then steamed them . Tasted yum but was a bit difficult to eat the fried fish with the bones on it . After that again once at my friend sulus place where she had made it with prawns filling . It was to die for . Breaking my head about a healthy snack to be made for Iftar … Meen pathiri just sparked bright in my mind which is a great healthy eating option  . Browsed through the net for a good recipe and took note of a few but re- checked with my saviour buddy sulu ( from class two till date in my kitchen its like that except I was her saviour in maths and physics :-)) )  again and got more tips and tricks as an added bonus for my first try with meen pathiris . I have made bite size individual pathiris but you can follow the same recipe and make medium pizza sized single ones cut and serve or make crescent -half moon shaped ones as well . Made up my mind to make crescent shaped pathiris but swapped my mind to medium sized  nibble  ones as was not very confident about the rice flour dough not breaking while folding into a moon shaped pathiri . Religiously followed sulus instructions and wolla it was absolutely pitch perfect with a wow factor written all over it . My friend meera aboo thamby , her son athik And her   nephew Seyad went bonkers eating the meen pathiris because of the marvellous pairing of contrasting flavours . Was a bit  nervous about serving the meen pathiris to hubby as we never ever add fish on the menu through out the holy month of ramadan . But brunches have a way of surprising when you least expect it as  hubby also enjoyed it a lot .
Ingredients To Marinate The Fish and fry
| Ingredients | Quantity |
| --- | --- |
| Cleaned fish | 1/4 kg ( sheer fish ) |
| Red chilli powder | 2 teaspoon |
| Turmeric powder | 1 teaspoon |
| Lime juice | a squeeze |
| Salt | to taste |
| Oil | to fry |
Method for fish fry
Marinate in the cleaned fish in red chilli  powder, turmeric powder  , lime juice and salt for an hour at least and then shallow fry it in vegetable oil.
Don't let it get too brown and crispy….. the idea is to just cook the fish, not deep fry it. Drain, and remove the bones and skin and shred the fish.
Ingredients For the filling
| Ingredients | Quantity |
| --- | --- |
| Onion | 1 medium size chopped |
| Small onions | 2 hands chopped |
| Tomato | 1 small blitzed in a food processor |
| Green chilies | 5 chopped |
| Ginger Garlic Paste | 1 teaspoon each |
| Red chilli powder | 1 teaspoon |
| Coriander powder | 1 teaspoon |
| Garam masala powder | 1/4 teaspoon |
| Turmeric | 1/4 teaspoon |
| Curry leaves | 3 sprigs chopped |
| Salt | to taste |
| Coconut Oil | 3 tablespoon |
To  dry roast and powder
| Ingredients | Quantity |
| --- | --- |
| Coconut grated | 1/2 cup |
| Shallots | 4 small ones chopped |
| Fennel seeds/Saunf | 1 teaspoon |
Method for Fish Filling
In a non – stick kadai or a heavy bottom pan, dry roast the ingredients specified above, all together on very low heat till the coconut gives out its aroma and starts turning brown at the edges.
Take off the flame and pulse in a dry grinder to powder it coarsely. No water is to be added and set aside .
Heat oil and saute onion and green chillies. When the onion becomes transparent, add ginger-garlic paste . fry to crisp and then add the coriander powder, chili powder, garam masala and turmeric powder.add the blitzed  tomato at this point , cover and cook for 5 minutes or till the tomato  looks pulpy .
Add salt. Stir and sauté till the whole mixture gives out oil and moves as one mass in the pan. Add the fried shredded fish to the onion mix and stir together on medium heat.
When there is just enough moisture in the fish masala as needed for the filling, add the coarsely ground coconut, finely shredded curry leaves, salt and mix well. Taste and adjust as needed. Remove from flame and keep aside.
Ingredients For  The rice paste
| Ingredients | Quantity |
| --- | --- |
| Rice flour( iddiappam flour ) | 2 cups |
| Water | 1 1/2 cup |
| Salt | 3/4 teaspoon |
| Cumin powder | 1/2 teaspoon |
| Coconut grated | 1/2 cup |
| Small onions | 5 to 6 |
| Garam masala powder | a huge pinch |
Method
Pulse grated coconut , cumin seeds and small onion in a food processor just to get a corse mixture and set aside . Mix rice flour , salt and garam masala powder together .heat water and bring to boil .
Add the rice flour and Stir with a fork to get a crumbly mixture where the rice flour has taken all the water into it . Remove from heat  and cover for 5 minutes.
Add the coarsely ground coconut mixture and  Knead it into a soft sticky dough with the help of wet hands .
How to assemble and steam
Grease a plastic cover that is cut into a one large piece or use  parchment paper . Place a big orange size rice flour ball , cover with another greased plastic  cover or place another parchment paper over it and roll it with a rolling pin to get a wide pathiri ,  the thickness should not be too much.Remove the top paper carefully.
Use any round shaped cutter size of your choice and press as many circles as you can . ( i could make 3-4 circles to a time ) Place 2 tablespoons of filling on one  pathiri leaving a half inch trim along the edges. Place another  pathiri on it and then press down on the edges with your fingers to seal the edges .
I made a pattern , all around the edges by pinching both the pathiris together . Cover the whole meen pathiri with foil / parchment  paper tightly or with banana leaf  and then steam in your steamer for about 10-15 minutes.
( I steamed them in my iddli steamer , you could use your rice cooker . ) Remove the meen pathiris  from the steamer and serve hot .
Notes
You can follow the same recipe and substitute fish filling with prawn filling , mutton filling or chicken filling . Vegetarians can do the same with paneer , mushroom or soya chunks filling .
Traditionally banana leaves are used to steam the meen pathiris .. I used foil paper which is more handy as you can just steam it again when ever wanted to be served hot .
You can store these steamed meen pathiris along with the foil paper on in a zip lock bag in the refrigerator and steam again when ever required  to be served hot .
 you can also  use any large vessel half filled with water. Placing a colander or a steamer basket over the water when the water boils  reduce heat to medium. Place the foil paper covered meen pathiris  in the basket, cover it and cook for 7-10 minutes . Once cooked serve hot .