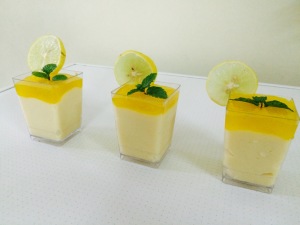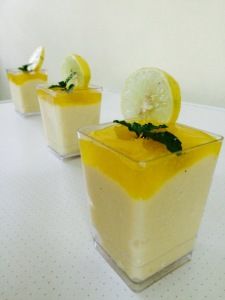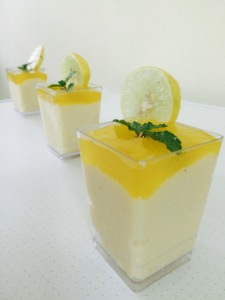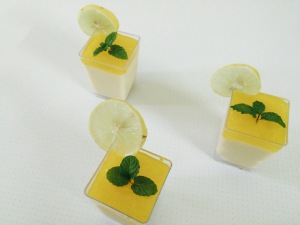 Preparation time : 30 minutes
Cooking time       : 20 minutes + setting in the refrigerator for 50 minutes.
Serves                 : 6-8 members
Description
Other than lime juice, I never could relate to lime being used for a dessert or a sweet dish. But then as always breaking the stereo – type mind in me ends up with banging  results letting way for new inventions and more experiments to be added to my bucket list. This dessert also played a similar role as such. The tang of lemons with the sweetness breaking through and the sunshine yellow colour the lemons gave were to die for. Lemony, acidic and zesty. Perfect for a sunny afternoon with its fresh citrus notes. These can be made a day ahead and kept chilled until you need to serve them. If you ever flipped through pages of magazines and wanted to eat the photos, here's your chance to try it out and surprise your loved ones.
Ingredients for the cream cheese layer
| Ingredients | Quantity |
| --- | --- |
| Panner | 1 cup |
| Condensed milk | 1 cup |
| Sugar | 3 teaspoons |
| Vanilla essence | few drops |
| Gelatine | 1 teaspoons |
Ingredients for the lemon curd
| Ingredients | Quantity |
| --- | --- |
| Fresh lemon juice | 5 tablespoons |
| Grated lemon zest | 1 teaspoon |
| Sugar | 1/2 cup or more to taste |
| Salt | A pinch |
| Butter | 5 tablespoons at room temperature |
| Cornflour | 1 heaped teaspoons |
| Yellow food colour | A few punches ( optional but gives a good look to the pudding ) |
Method for cream cheese layer
Soak gelatine in 1/4 cup water to bloom for ten minutes. Then microwave for 30 seconds to dissolve. Cool to room temperature.
Beat Panner, condensed milk, sugar and vanilla essence together with the help of an egg beater to smooth. Add the dissolved gelatine and pour into individual pudding cups to 3/4 full. Place in the refrigerator to set for 40 minutes or more.
Method for lemon curd
Mix lemon juice, grated lemon zest, sugar, salt, food Colour and cornflour together with little water to get a loose consistency liquid.
Heat over medium flame until it thickens, stirring constantly. Remove from heat and cool completely. Add butter and keep stirring until all combines together and thick. Taste and adjust seasoning. Pour 3 tablespoons of lemon curd over each set cream cheese layer. Place in the refrigerator, until to be served.
Serve chill garnished with mint leaves and lemon slices.