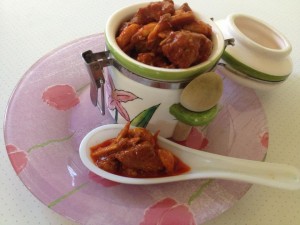 This is an authentic malabar dish as we ravuthars don't make pickle with fish . This ricepi is my moms . Don't know from where she got the recipe . Even this fish pickle in the picture was prepared by her . She had gone to Cochin for a cousins reception and came bake with 10 kgs of fish and prawns together . Results I was made to clean the entire 10 kgs of fish duringmy holiday visit to moms place Loads of work done in hubby's placeis not a problem at all ( wonderfrom where Iget the energy and streanth )but when at moms place I hate to even move a cup from here to there . I guess every woman has the same motto in them .
Ingredients
Bone less fish – 1 kg cut into small pieces , turmeric powder -1/2 teaspoon , chilli powder – 1 teaspoon + 1 1/4 cup , salt – to taste , gingily oil – 2 cups , vinegar -2 cups , ginger juliens – 100 grams , garlic juliens or whole – 100 grams , green chillies -3 juliens , fenugreek – 1 tablespoon , mustard seeds -1 table spoon , curry leaves -1 strand , hing powder -1 tablespoon , hot water -1 1/4 cup .
Method
Marinate cleaned drained fish with turmeric powder , chilli powder 1 teaspoon and salt to taste for 1/2 an hour . Heat the gingily oil and fry the fish , drain and put it into the vinegar to soak . In the same fish fried oil fry the ginger juliens , garlic and green chillies separately to golden colour and add to the fish marinating in the vinegar . Mix well . In the same fried oil add mustard seeds , fenugreek seeds and curry leaves . Fry to splatter add hing powder switch of the flame and add the remaining red chilli powder . Mix well adding the hot water . Put it back on flame and bring to boil . Add the marinating fish , ginger , garlic , green chillies , vinegar mixture and mix well . Lower the flame , once the oil floats on top remove from heat . ( about 2-3 minutes not more than that as the fish might break ) cool and store in a dry clean air tight container . Best served with boiled rice for lunch .