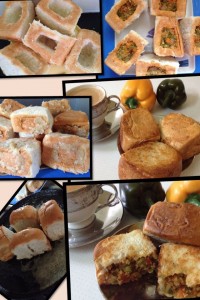 Preparation Time : 30 minutes
Cooking Time : 20 minutes
Serving : 8 members
Description
My friend fathima had come to Coimbatore for shopping once when I was there . She stayed in her sister – in – law Farzanas( farju , thats how she addresses her ) house . It was a 2 day trip . The entire day we used to shop together and hang around . It was great fun . On her way back to Salem she dropped into my place to bid me bye . She handed a box to me asking me to eat it . The box was warm . Opened to check what it was . Saw 3 pav bhajibuns toasted on all sides . I was like where is the veg gravy (bhaji ) for the pav ( buns ) . Called her to find out if she forgot to drop the gravy . She laughed her guts out telling me it's stuffed bun made by Farju . Dum me , then I tasted it . God it was so very yummy . I tried it once I got Back home . Turned out well and every one liked it .the stuffed buns Which fathima had given had onion masala filling with 1/2 boiled egg inside . Here my filling is with chicken and vegetables .
Happy snaking on a wonderful Sunday.
Ingredients
| Ingredients | Quantity |
| --- | --- |
| Pav bhaji buns | 8 |
| egg | 1 beaten with salt and pepper to taste |
| ghee or oil | 4 teaspoons to toast the buns |
For Filling 
Ingredients

Quantity

Boneless chicken
1 cup ( boiled with little turmeric powder
1/4 teaspoon ginger , garlic paste salt to taste along with little water and shredded )
mixed vegetables
1 cup ( carrot, beans , capsicum , cabbage , green peas ) chopped
onion
1/4 cup chopped
oil
2 teaspoons
chilli flakes
to taste
pepper powder and salt
to taste
lime
a squeeze
Method
Heat oil in a kadai . Add onions and vegetables and sauté for 5 to 8 minutes . Top with the cooked shredded chicken and mix well .
Add salt , pepper and chilli flakes . Toss well and fry for 2 minutes . Finally squeeze lime , mixing well . Taste and adjust .
Remove from heat and cool completely . Set aside .
Make a square on the under part of the pav bun with a knife . Keep the square part aside .
Remove the inside part of the bun with your fingers to get a hollow space in the bun to stuff the filling inside .
Carefully stuff the hollow space of bun with the filling . Dip the square lid of the bun under part in the beaten egg and close the stuffed bun .
Mix 1/2 teaspoon of removed bun crumbs with little beaten egg to get a paste . Use this paste to seal the square lid all around .
Heat oil or ghee in a tawa and fry the stuffed bun on the sealed part first as to cover the stuffed part together . Fry in low flame on all sides to a golden colour . Serve hot with tomato sauce and masala tea .