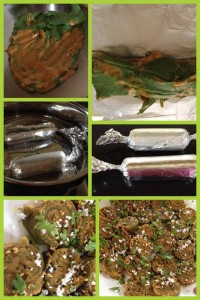 Preparation Time : 35 minutes
Cooking Time : 15 -20 minutes
Serving: 5 members
Description 
Patra . An authentic Gujarati  snack that I first ate in chennai at residency towers 3 years back on celebrating our wedding anniversary . ( I have mentioned the word "OUR " wedding anniversary as my hubby's brother nawaz and first cousin Yousuf also got married on the same date as  our's – me and hubby ) un – expected we all happened to be in chennai together and all cousins in chennai had a grand buffet feast for lunch in residency towers . Patra was served in the chat counter and i just could not stop eating it . I didn't know the name but guessed , it is a Gujarati dish as it was sweet , sour ,  hot and made with chick pea flour . ( Who else would tickle your taste buds with all these flavours in one dish ) I had taken note of this recipe from a blog , only then did I know this dish is called patra . Originally they use collaslavia leaves but I have substituted it with huge spinach leaves . Was at moms place last week and my grand finale of finishing my holiday always has to end with a shopping at nilgiri's store in r.s Puram  in Coimbatore .  Every time I am there , I am surprised with new ingredients , fruits and veggies there . This time I went more than mad actually while shopping as I ended up picking every thing in the store ( think as I was fasting …. Wanted every thing there ) my daughter was like what is wrong with you mom ???? I just could not resist my surprise seeing really huge spinach leaves there . I just grabbed 3 bunches and immediately patra sparked in my mind . Made it today and feel so revealed that hubby liked it and another snack added to my know lists of not deep fried goodies .
Ingredients
| Ingredients | Quantity |
| --- | --- |
| Spinach large Leaves | 6 |
| Besan / Gram flour | 2 cups |
| Asafoetida | 1/4 teaspoon |
| Ginger green chilli paste | 1 teaspoon or to taste |
| Red chilli powder | 1/2 teaspoon |
| Coriander powder | 1/2 teaspoon |
| Cumin powder | 1/2 teaspoon |
| Grated jaggery | 2 tablespoon |
| Tamarind pulp | 3 tablespoon |
| Baking powder | 1/4 teaspoon |
| Oil | 1 tablespoon+ little to grease the foil paper |
| Salt | to taste |
| Water | required to make a thick batter |
For Tempering
| Ingredints | Quantity |
| --- | --- |
| White sesame seeds | 1 tablespoons |
| Mustard seeds | 1 Teaspoon |
| Asafoetida | a pinch |
| Oil | 1 teaspoon |
| Water | 3 tablespoons |
To Garnish
| Ingredients | Quantity |
| --- | --- |
| Grated coconut | little |
| Coriander leaves | chopped |
Method
Wash the spinach leaves and wipe them with a kitchen towel.remove the thick stems.
In a large bowl mix the ingredients mentioned in the ingredients list on top, to make a smooth and thick batter of spreading consistency except for the spinach leaves .
Place the leaf reverse side up and spread the batter evenly. Place another spinach leaf on top of this and repeat the procedure. Usually 3 leaves are perfect for one roll.
Now roll the leaves carefully to make a thick roll.
Place it in a greased foil wrap and close the edges.
Put water in a steamer and place the roll to steam for 10 minutes, turning the side after 5 minutes. ( your iddli steamer will work perfect for steaming )
Remove the steamed roll and let it cool.remove the foil paper and Cut it into slices with the help of a wet knife .
In a flat-bottomed pan fry the tempering ingredients . add 3 tablespoons water and bring to boil . toss the slices carefully and wait for the moister to get into the patras .
Place them on the serving platter and garnish with grated coconut and finely chopped coriander leaves.serve as it is ( i served it with out a dip , tasted yum ) or with green chutney and sweet chutney
Note
You could add 1/4 teaspoon of turmeric powder as I found my rolls a bit dark coloured . Turmeric powder added will result in a brighter looking patra .
You can use blanched large cabbage leaves also instead of spinach leaves .
Non – vegetarians can add cooked chicken or meat to the batter and follow the same recipe .