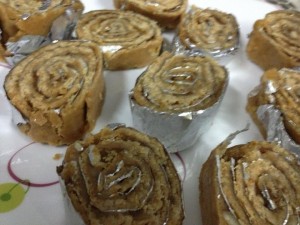 Preparation Time : 10 minutes 
Cooking Time :  5 minutes + 1/2 an hour in the refrigerator
Serving : 6 members 
Description
An easy dessert made with very few ingredients . I took note of it from the page it's yummy , yummy to the tummy . check out the page flocks has a lot of authentic malabar recipes and easy to make dessert recipes at home . Biscuit and dates were 2 things I hate to eat . during fasting time while breaking our fast , we have to break it by eating dates first . But I rarely used to do that instead just drink water and biscuits were a big no no . Buying snaks to school biscuits were never in the list . but now a days there is nothing as I hate or don't want . I eat anything and every thing . ( poor me and my weight problem )
Ingredients
| Ingredients | Quantity |
| --- | --- |
| butter | 60 grams  |
| Condensed milk | 5 tablespoon or more |
| Pitted dates | 250 grams (chopped) |
| Marie biscuits | 1 1/2 packets (crushed) |
| Nuts of choice | 100 grams  (chopped) |
| Ghee | 1 tablespoon |
Method
Crush the biscuits and powder them . Add butter and mix well .
Pour condensed milk over and knead into a dough . Keep aside .
Heat a non stick pan with ghee in it . Fry the nuts and dates to get a paste consistency . Add little water if required .
Place a long sheet of foil paper on a flat surface . Place the dough over and flatten and spread out with a rolling pin evenly .
Then spread the nuts and dates mixture over the biscuit dough base . Roll the biscuit dough base tightly with the foil paper .
Place in the refrigerator for 1/2 an hour to set . Cut into one inch thick pieces and serve .
Fun to eat by removing the foil that is all rolled up .