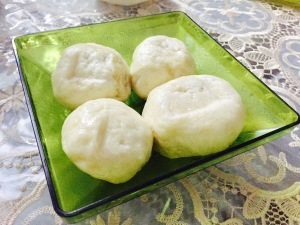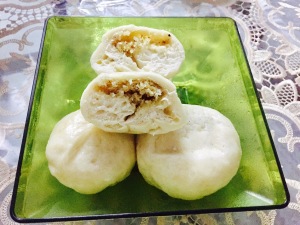 Preparation time : 30 minutes + 3 hours for doubling the dough
Cooking time      : 10 -12 minutes
Serves                : 8 members
Description:
The first recipe that my co-sister Farzana wrote in my first hand written cook book around 20 years back. This is her grand mother's recipe that I got to know through her. I had never heard of a bun recipe that's steamed ever before. I remember she being a new bride,we had her relatives visit her very often and every time they would come with some authentic home made goodies. I used to wait to check out what new goodies are gifted each time. Her grand mother is a Malaysian,so their food is dominated with a lot of Malaysian dishes. This bun recipe is also a Malaysian dish. I got to taste a similar steamed bun on my trip to Japan but that had sweet red kidney beans filling inside. Well I guess this concept of steaming buns is a very Asian thing as I got to know even the Chinese steam buns for their new year. The universal bun that's taken its different avatar's through out the world. I am happy I got to learn a new technique of steaming buns and the various countries that it's made. I may have shared thousands of recipes with you all but this one is the most special as it's the first documented recipe of mine.
Ingredients for sweet filling : 
| Ingredients | Quantity |
| --- | --- |
| Grated coconut | 2 cups |
| Sugar | to taste |
| Cardamom powder | 1/4 teaspoon |
| Salt | a pinch |
Method for filling: 
Mix all the filling ingredients together.
Ingredients for the bun : 
| Ingredients | Quantity |
| --- | --- |
| All purpose Flour / maida | 1/2 kg |
| Butter | 5 grams |
| Vegetable oil | 5 grams |
| Milk powder | 2 tablespoons |
| Ice water | 1/2 cup |
| Powdered sugar | 2 tablespoons |
| Salt | a pinch |
| Instant yeast | 11 grams |
Method for buns : 
Mix all the above mentioned ingredients together and knead to a smooth dough for ten minutes. Cover the dough with a wet cloth and set aside for three hours to double in size.
Punch the dough down to remove air. Knead the dough. Make medium size even balls out of the dough. Keep aside covered with a wet cloth for another one hour.
Flatten each ball to Palm size discs. Place desired filling in the center. Bring the edges of the dough towards the middle and roll to a bun with no cracks. Place the filled buns over cut foil paper squares.
Heat a steaming pot with water. Place the stuffed buns with the foil paper below and steam for 10-12 minutes.
Remove and serve hot,warm or cold.
Notes :
These buns can be filled with savory filling of choice too.