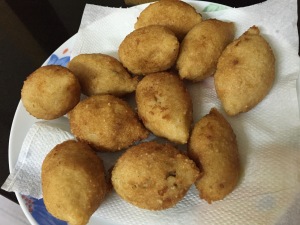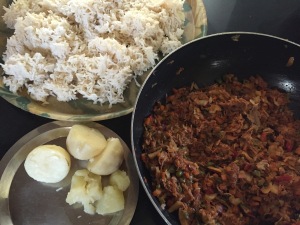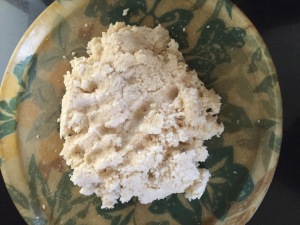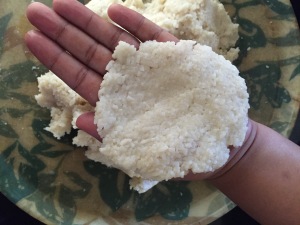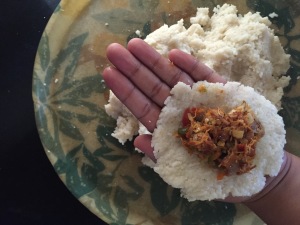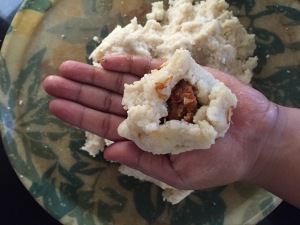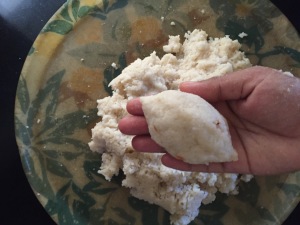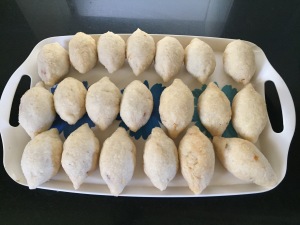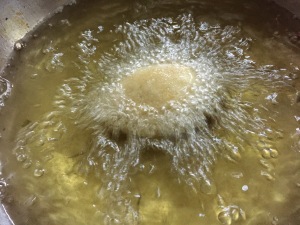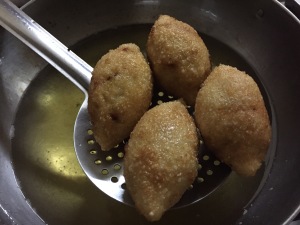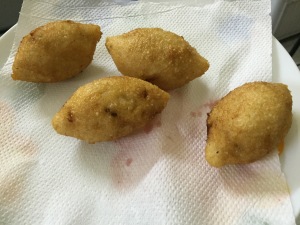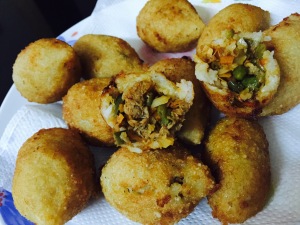 Preparation time : 25 minutes
Cooking time      : 20 minutes
Serves                : 10 members
Description
My new love for Arabic food is driving me crazy. I am so into knowing what it's all about. I came across a recipe that really excited me. As always it's a filled snack that's deep fried apt for the on – going fasting. I did change the recipe to my convenience and went ahead. I was not sure about the rice – potato covering and kept debating with my cook about this. We both were waiting for the final result on its taste, texture and out come of the snack. I wanted to roll these into balls but wanting a change in shape, I just sharpened the edges and it looked new and inviting. Deep fried the first batch and they were out to taste. The deep fried snack was taking so long to cool down, I started to loose patience. Finally took a bite. The crust was crispy with a second layer of moist mushy rice and potato, then the third layer of spicy filling. Altogether it was a mouth full of riot in flavors. In the ifthar table . My boy who was on his two weeks holidays liked the not so regular snack very much. my mission accomplished as the career of motherhood and home making is beyond value and needs no justification, it's importance is in – calculated.
Ingredients for the cover
| Ingredients | Quantity |
| --- | --- |
| Basmati rice | 2 Cups |
| Water | 3 cups |
| Stock cube | 2 |
| Potato | 2 big boiled and peeled |
Method for the cover
Pressure cook rice, stock cube and water together for 3 whistles and cool completely.
Mash the boiled potatoes. Add it to the cooked rice and knead well together.
Taste and adjust seasoning. Keep aside covered with a wet cloth.
Ingredients for the filling
| Ingredients | Quantity |
| --- | --- |
| Chicken or meat mince | boiled 1/4 kg |
| Ginger garlic paste | 1/8 teaspoon each |
| Salt | to taste |
| Turmeric powder | 1/4 teaspoon |
| Onions | 5 big chopped |
| Green chillies | 4 chopped |
| Mixed vegetables | carrots , beans , cabbage , green peas chopped and boiled in water with salt |
| Mint leaves | few |
| Coriander leaves | one hand chopped |
| Pepper powder | to taste |
| Red chilli flakes | to taste |
| Oil | 2 tablespoons |
| Lime juice | 1/4 teaspoon juice |
Method for  filling
Heat oil in a non stick pan. Add onions and fry to translucent.
Add green chilies, boiled chicken or minced meat, boiled chopped mixed vegetables, mint leaves, coriander leaves, salt, chilli flakes and pepper to taste.
Mix well and lower the flame and keep stirring for 3 minutes letting all the flavours infuse together.
Remove from heat, squeeze lime. Mix well, cool and set aside.
Other ingredient
| Ingredients | Quantity |
| --- | --- |
| Oil | to deep fry |
How to proceed
With wet hands, take a medium size ball of rice – potato dough mixture.
Flatten in you palms. Place one tablespoon of filling in the centre .
Bring the edges of the rice – potato mix towards the centre making sure the filling is covered all over.
Roll into a ball. Then sharpen the opposite edges of the ball to get a dew drop shape.
Wet your hands occasionally if the rice – potato mix starts to stick.
Do the same to all the rice – potato mix and filling.
Heat oil to deep fry. Drop the rice – potato dew drops in batches of three at a time.
Deep fry in medium hot oil until crisp and golden in colour for five minutes.
Drain and serve hot with ketchup. ( we had it as it is with no dip )