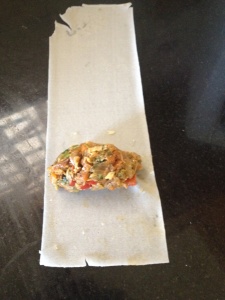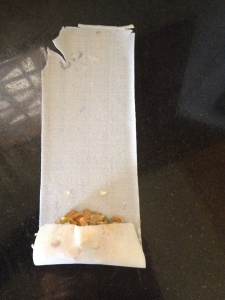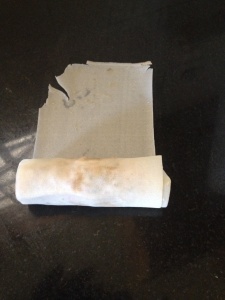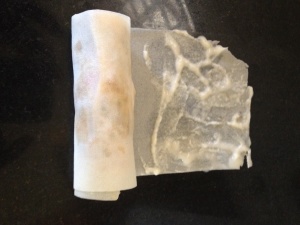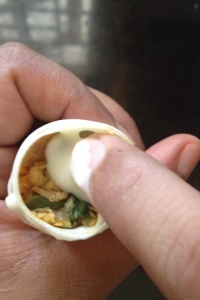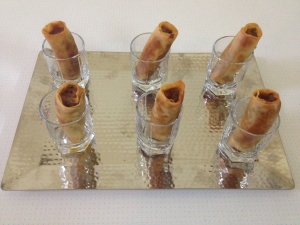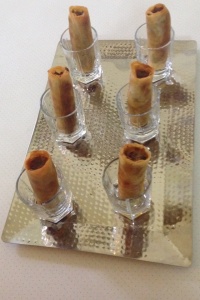 Preparation Time : 35- 40 minutes
Cooking Time : 10 minutes for filling + 1-2 minutes for each batch deep fried
Serving : 6-8 members
Description
The first time I got to see these cigars ( vegetarian though ) made was in master chef India ( can't remember the season ) at a team challenge in the palace of Rajasthan . This was the winning dish in the episode as well . Did store the idea in mind then but was forgotten like always . A few months back just before the holy month of Ramadan could start , I had a chat with my friend Anisa Arif and as usual the foodie in us took over and ended up discussing food . It was her that reminded me about these cigars again while our chat . Made sure to try it out immediately for all the lost time stored and forgotten from my mind . Anisa did ask me to apply flour paste all around the edges of the cover and just to roll up the cigars with the filling and deep fry . I was not confident with her version as felt the filling might just all come out once dropped into hot oil . So I went with my instincts being more safe by applying flour paste over both the sides of the rolled cigars . Wolla , it worked perfect and was a perfect snack to munch about with such ease that endeavoured to capture the soul of our regular local chicken samosa but in an innovative , tasty way . All thanks to the spice queen Anisa Arif for bringing back the long lost cigars in to experiment at my home kitchen and I hope it continues at all your kitchens too .
Ingredients for chicken filling
| Ingredients | Quantity |
| --- | --- |
| Boneless chicken | 1/4 kg |
| Thin Coconut milk | 1/4 cup |
| Ginger garlic paste | 1/4 teaspoon each |
| Salt | taste |
| Turmeric powder | 1/4 teaspoon |
| Onions | 5 big chopped |
| Green chillies | 4 chopped |
| Mixed vegetables | carrots , beans , cabbage , green peas chopped and boiled in water with salt - 1 cup |
| Mint leaves | few |
| Coriander leaves | one hand chopped |
| Pepper powder | to taste |
| Oil | 2 tablespoons |
Method for chicken filling
Pressure cook cleaned chicken , coconut milk , salt , turmeric powder and ginger garlic paste for one whistle .
Bring to boil and Reduce the water . Cool completely and shred the chicken to treads ( I run it in the food processor for a second ) .
Heat oil in a non stick board pan . Add onions and fry to translucent .
Add green chilies , boiled chopped mixed vegetables , shredded chicken , mint leaves , coriander leaves , salt and pepper to taste .
Mix well and lower the flame and keep stirring for 3 minutes letting all the flavours infuse together .
Remove from heat , cool and set aside .
Ingredients for the cover
| Ingredients | Quantity |
| --- | --- |
| Readymade spring roll or samosa sheets | 12 to 15 |
| Flour / maida | 1/4 cup |
| Water | little |
| Salt | to taste |
| Oil | to deep fry |
How to proceed
If using spring roll sheets , cut one sheet into two equal rectangle strips .
Mix flour / maida with salt to taste and little water to get a smooth paste like consistency .
Place about two tablespoons of filling over the rectangular sheet one inch away the top edge .
Apply the flour paste all around the edges of the rectangular spring roll / samosa sheet .
Roll from the top end of the rectangular sheet tightly making sure the chicken filling is intact with out scattering away .
Apply little flour paste on both the ends of the cigars .
Do the same to all the sheets and filling . Heat oil to deep fry in medium heat .
Drop the chicken cigars in batches and fry to golden brown in colour . Drain and serve hot with any dip of choice .
Notes
Vegetarians can avoid the chicken and use potatoes instead along with the other vegetables following the same for the filling .
I always press the filling by hand to get a log shape . Then place over the rectangular sheet and roll tightly . This way the filling stays intact .
I usually follow this recipe up to the rolling of cigars and store in the freezer for 2 to 3 days . De freeze and deep fry when ever needed .