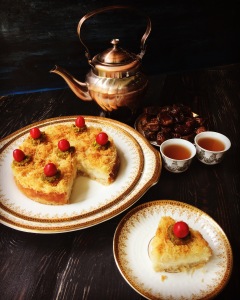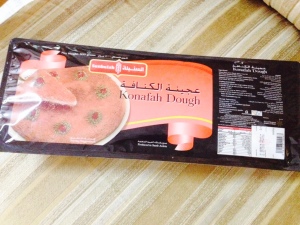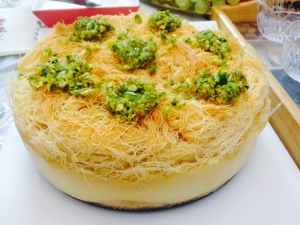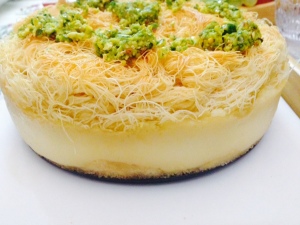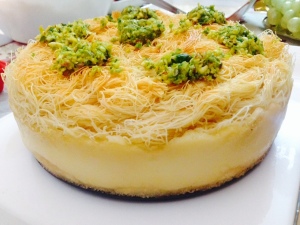 Preparation Time : 20 minutes
Cooking Time : 50 -60 minutes
Serving : 8-10 people
Description
Kunafah . This word did sound like Greek to me the very first time I heard it through a relative of mine thasnim who had requested me for the recipe of Kunafah after a  holiday in Dubai . Not knowing if this was a sweet or savoury dish and from which part of the world it was made .. Left me clue less for sure . Thank god , we are blessed with google to clear our doubts what so ever . Immediately googled and found out it was a middle eastern sweet delicacy made with a special dough similar to vermicelli but soft , filled with creamy textured paste of any flavour of choice and baked . Then served with a good drizzle of flavoured sugar syrup . I did add this recipe to be must try list . Started my search through friends and relatives to get access to Kunafah dough from the Middle East . The search went on for months to years and finally my cousin brother mohideen got me two packets of Kunafah dough from Dubai . Went through so many recipes in the world wide net and stuck to the most simple and authentic one . Made good use to add more glamour to my eid al adha  feast table with the Kunafah for the first time . The first ever Kunafah that I have seen and tasted is the one I made and being clue less of the authentic taste and appearance felt lost with the out come . Served it and it was devoured in no time . Did send pictures to my friend sulu and she was all raving about how it looked perfect and she was surprised about the light yellow colour in the Kunafah . Satisfied me , but still had my doubts about the authentic taste and appearance in mind . Made good use clearing my doubt when on a holiday to Dubai recently  . I ate Kunafah where ever I saw it and the only difference from my Kunafah was the volume . Mine was like a cake and the authentic one was made in huge trays flat with colour added to the Kunafah dough . Taste wise it was pitch perfect . My cravings to taste the authentic Kunafah was accomplished but yet again I missed out buying Kunafah dough from Dubai that has left me to square one condition of searching a source to get the Kunafah dough :-((( .
 Ingredients for Sugar Syrup
| Ingredients | Quantitiy |
| --- | --- |
| sugar | 2 1/2 cups |
| water | 1 1/4 cups |
| lemon juice | 1 tablespoon |
| Rose water | 1 tablespoon |
| Rose essence | 2 drops |
Ingredients for Cream filling
| Ingredients | Quantitiy |
| --- | --- |
| rice flour | 1/2 cup |
| milk | 4 cups |
| heavy cream | 1/2 cup |
| sugar | 6 tablespoons |
Ingredients for Pastry
| Ingredients | Quantity |
| --- | --- |
| Kunafah pastry defrosted | 1 pound |
| unsalted butter, melted | 1/2 pound |
To Garnish
pistachios chopped- 2/3 cup
Method
Syrup: In a small saucepan on high heat add water, sugar and lemon juice, bring to a boil then reduce to low, cook for 5 minutes. Cook until thick, like a syrup (if it becomes to thick add a small amount of water). Add rose water and rose essence , cool then chill.
 Dilute the rice flour into the milk making sure there are no lumps . In a medium saucepan on high heat, add the diluted rice milk mix . whisk vigorously until there are no lumps to get a semi thick creamy batter . Add cream, mix well. Reduce heat to low and allow simmering 10 minutes, whisking through out every minute. Add sugar, set aside to cool .
 In an extra large bowl, add Kunafah pastry, breaking all strings apart with hands. Add melted butter over pastry mixing well with hands, until covered. In an 11-12 inch pie pan, add half of Kunafah pastry, press down. Add cream filling, smoothing out then add other half of Kunafah pastry, press down. Bake in a pre-heated oven at 180 degree Celsius for 45 -50 minutes until the crust is crisp and light golden in colour .
Take a sharp knife and run along pastry sides. Cover pan with plate and gently flip. Pour half of sugar syrup over pastry; reserve other half to serve at table. Garnish with pistachios.
Notes
, in case you don't have Kunafah dough pastry substitute with thin vermicelli instead .
you can add orange food colour to the Kunafah dough . I omitted it .you can add banana , cream cheese , nuts or anything of choice for the filling .
I preferred the simple filling as this was my first try . Will surely experiment with the rest soon .
I prefer pouring the sugar syrup into the kunafe immediately once out of the oven when hot .
Listening to the sizzle itself is so soothing .pour the reserved other half over the other tilted end just before serving .