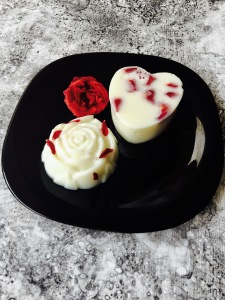 Preparation time : 20 minutes
Cooking time      : 10 minutes + 6 to 8 hours of setting in the refrigerator.
Serves                : 6 members
Description
My stress booster is sure cooking and having fun. Times when I feel really frustrated with things around. I just walk strait to the kitchen and start cooking some thing depending on my mood on that particular day. Every one knows this habit of mine and they just let be alone with out disturbing. On one such day, I walk into the kitchen to find just milk alone. I pair it with sugar, rose water, gulkand and china grass. It looks to cliche with no glamour at all. I peep out of my window to see a few roses bloomed in the garden. I add the petals to bring in a eye popping colour. Pour it into silicon moulds and place in the refrigerator to set. De – moulded the rose pudding and wolla… there was my new stress booster invention pudding that was made to cheer my soul. Cook yourself happy is my magic mantra . In fact, my kids make fun of me asking " mom, when will you get stressed so that we can have some good food."
Ingredients
| Ingredients | Quantity |
| --- | --- |
| Milk | 1/2 litter |
| Saffron | 1 pinch |
| Gulkand | 2 tablespoons |
| Sugar | 4 tablespoons or to taste |
| Rose petals | 1 tablespoon chopped + few to garnish |
| Honey | 2 tablespoons |
| Rose water | 1 teaspoon |
| China grass / agar agar | 10 grams |
| Oil | 1 teaspoon to grease |
| Almond flakes | few to garnish |
Method
Soak the china grass with 1 cup water for ten minutes.
Boil milk with sugar. Remove from heat and add soaked china grass. Mix well over heat, until the China grass dissolves. Add gulkand, honey and saffron into the milk and mix well.
Top with chopped rose petals and rose water. Mix well. Pour into greased pudding bowls. Place in the refrigerator for eight hour or more to set.
Transfer the set pudding into a plate by tilting it over a plate. Sprinkle rose petals and almond flakes. serve chilled.