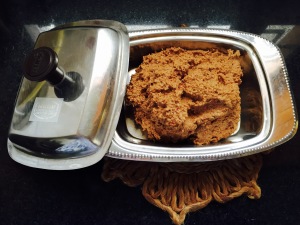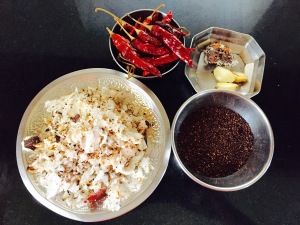 Preparation time : 5 minutes
Cooking time      : nil
Serves                : 6 members
Description
I got to know the word thovayal only after I was married to Deep South Tamil Nadu. Thovayal means a thick form of chutney. Back home the semi thick, runny or thick paste form every thing is addressed as chutneys. Here at hubby dear's place they have loads of thovayal' s in their every day meals and the best part each thovayal is supposed to be had with a particular combination of curries and dishes. This sesame seed thovayal is had with kootaan choru ( a poor man's version similar to the sambar saadam ) and palaya choru ( left over rice soaked in water over night ). This thovayal looks less appealing to the eyes as its colour is such but tastes divine. Perfectly tart, spicy with the roasted aroma of the ingredients is a umami packed wonder. In between your meals, a slight touch of this thovayal in your tongue sure helps to gulp in more food. This acts as a teaser to your taste buds adding more glamour to the blah food served along with it. Some food tradition's never go out of style. I end up licking the thovayal bowl usually. Shameless breed me .Well these are time's I rediscover the joy of the real me. Gear up people to do the same.
Black sesame seeds thick chutney
| Ingredients | Quantity |
| --- | --- |
| Black sesame seeds | 1/2 cup |
| Grated Coconut | 1/2 a coconut |
| Red dry chillies | 15 |
| Garlic | 3 |
| Tamarind | goose burry size ball |
| Salt | to taste |
| Oil | 1 teaspoon |
Method
Heat oil and roast all the ingredients to golden except salt making sure not to burn. Cool completely.
Grind together adding very little water to a smooth thick paste.
Taste and adjust seasoning. Serve as a side.