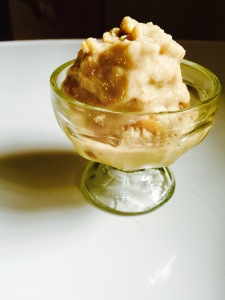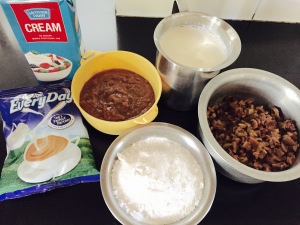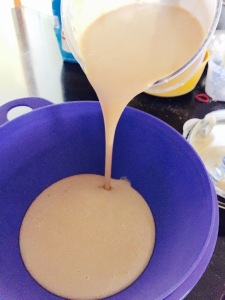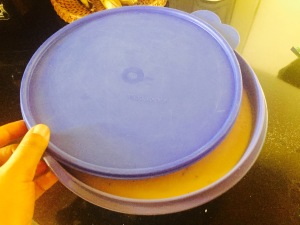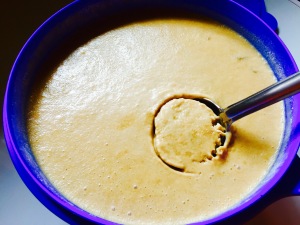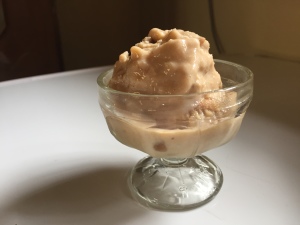 Preparation time  : 20 minutes
Cooking time       : nil , 8 hours or over night to set
Serves                 : 10 members
Description
Nothing comes close to living the old school way of planting a tree, watering them, taking care of them and waiting for it to bear its fruits after years. Well I love doing this and make it a point to do so with the little space I have at the back yard at home. Every year the Chickoo tree bears fruits but I never care to relish on them wanting the birds and squirrels to have a feast instead. This year, I could not believe my eyes to see the tree over loaded with just fruits. As always my little joys are shared with friends and family. I did share a picture of the chickoo tree in face book. Friends started pouring in suggestions on what to do with the fruits. I settled for vidya vijay's suggestion on chickoo ice cream as I have never ever tried making ice creams at home as to me it's a stuff of childhood delight. I did follow sanjeev kapoor's recipe which was so very easy to follow. I did make a twist of adding one cup chickoo purée. I treated my gym friends for the eid feast that I hosted. Believe me, the ice cream just vanished in seconds and was followed with we need more. The contrasting textures made it an absolute hit. All thank's to vidhya for the idea and letting me try a new recipe as well. Now I know the trick of making yummy ice cream that's hassle free which can be made in batches and frozen. They are easier to prep than you think. Umm.. Fresh and quick is always good isn't it ??
| Ingredients | Quantity |
| --- | --- |
| Chickoo purée | 1 cup |
| Chopped chickoo | 1 cup |
| Cream | 1 cup |
| Milk powder | 1 cup |
| Sugar | 1 cup powdered |
| Milk | 1 cup |
| Salt | a pinch |
Method
Mix all the ingredients together. Taste and adjust sweetness.
Pour into air tight container with a tight lid.
Place in the freezer for eight hours or over night to set.
Scoop out and serve chilled.