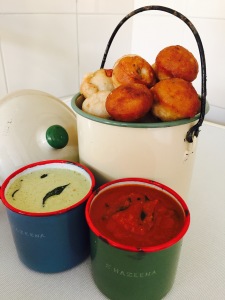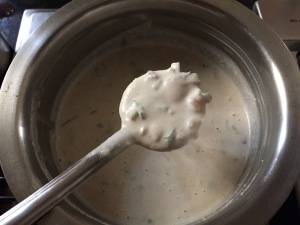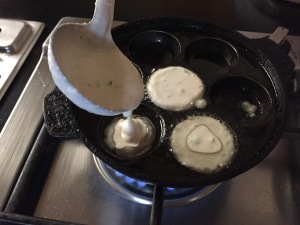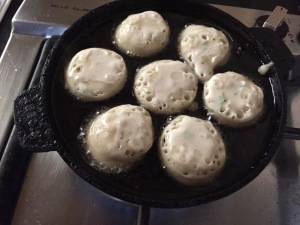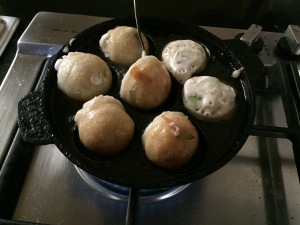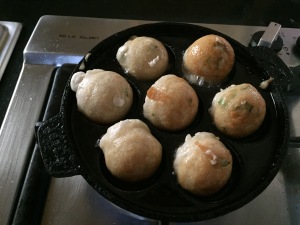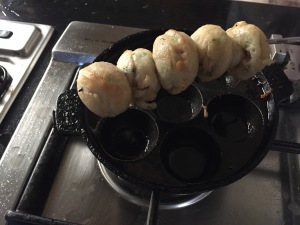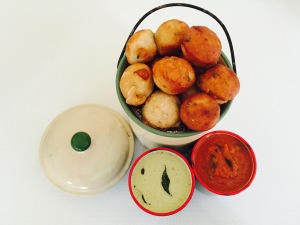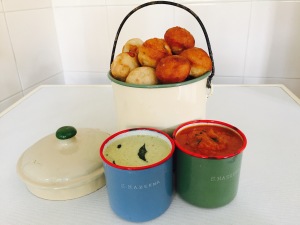 Preparation time  : 10 minutes + 3 hours soaking time
Cooking time       :  2 minutes for each batch
Serves                 :  4-6 members
Description
Cooking with millet's is so in now a days. Like fashion being a circle and takes its turn over and over again. Food also follows the same as all these recipes with millet's are age old recipes that our ancestors made in daily basis. It's just that it became a forgotten story in between and now it's started to pop up in the hit list of recipes. I am trying my best to serve healthy Indian food for breakfast at home with trial and error as always. This was a sure hit and I just loved the way the paniyaram's puffed up. As alway's I clicked pictures and sent it over to friends saying today's breakfast trial. One good friend suggested saying try taking pictures with chattinad vessels. The light bulb moment sparked in me, as I remembered my mom giving me a lot of mangu vessels ( no idea what it's known as in English ) when I was married of, that are kept safely in the loaf at home. My mom's best friend Alamu Akka is from karaikudi. I remember my mom being blown away with her friends eldest daughters wedding in karaikudi as they have a custom of exhibiting all that they give the bride from the smallest to biggest thing possible. My Crazy breed mom did the same for my wedding too where I felt embarrassed a lot as this was so new to us and I personally felt it was way too much showing off. Well that's my personal opinion, no offence to any one. She in fact had an old man come home for nearly four months every day to write my name in each vessel itched by hand using an iron nail sort of thing. Even in these picture's my name is visible in the chutney containers. But thank god she did give me these vessels as they are put to use in the right way for me to show case the food I make.. Oops again back to square one of showing off in a different way …. I guess every thing is like fashion it runs in a circular motion.
| Ingredients | Quantity |
| --- | --- |
| Barnyard millet / kuthiraivali arisi | 1 cup |
| Raw rice / pacha arisi | 1/4 cup |
| Urad dal | 1/4 cup |
| Fenugreek seeds | 1/8 teaspoon |
| Onion | 1 big chopped |
| Curry leaves | few chopped |
| Coriander leaves | few chopped |
| Green chillies | 1 chopped |
| Grated ginger | 1/4 teaspoon |
| Salt | to taste |
| Soda - bi - carbonate | 1/8 teaspoon |
| Oil | 1/8 teaspoon for each paniyaram |
Method
Soak barnyard millet, raw rice, urad dal and fenugreek seeds in water for three hours.
Drain and grind to a smooth paste adding very little water.
Add salt, onion, green chillies, coriander leaves, curry leaves, grated ginger, soda – bi – carbonate to the batter and mix well.The batter must be of dosa batter consistency.
Heat an appe pan / kuli paniyaram pan with 1/2 teaspoons oil in each dent. Pour a small ladle of mixed batter into each dent.
Cook until you see bubbles on the top and the bottom gets a bit crisp.
Turn over the paniyaram 's and cook further for a minute or so until cooked through in medium heat . Remove from heat and serve hot with chutney of choice.
Notes
Serve these paniyaram's immediately as they tend to get hard once cold.