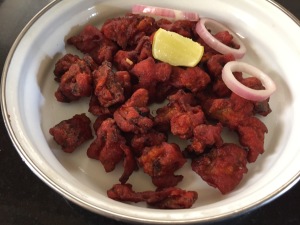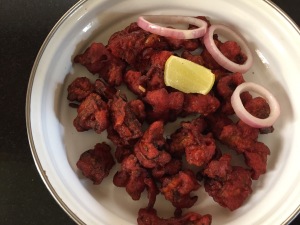 Preparation time  : 20 minutes + 3 hours marination time
Cooking time       :  5 minutes
Serves                 :  4 members
Description
From the first time I got to see mushrooms in colourful story books from our school library to wild mushrooms grown between the grass lands of the Nilgiris. This special fungus did make me ponder to think about its taste, texture and smell. Those days back in 1980's it was not available in India like now a days. I remember, when on a weekend outing with my parents we dined at the fern hill palace hotel. As always, I was looking for out of the box dishes from the menu card and there it was in block letters " MUSHROOM OMELETTE ". I didn't want to miss the opportunity of tasting mushrooms and placed an order. My dad, made sure to warn me ahead saying.. You are to eat the omelette even if you don't like it looking at mom and my little brother, winking and making fun of me. My long awaited mushroom omelette arrived, excited, anxious me took my first bite of the omelette from my fork. As I started to chew, I felt a meaty textured, chewy bits mushrooms wrapped over eggs and melted cheese. I did like the taste and flavours of the mushrooms. The ambience of the Swiss chalet fern hill palace with its wooden carved bargeboards, cast iron gates and manicured garden with fir and pine tree's sure did add in more glamour to the mushroom omelette which made me feel like a princess dining. My dad was curiously looking at me, checking out if I am going to waste the omelette. I told all of them it tastes really good and shared a bite with them too. My long quest of wondering about mushrooms came to an end with giving me a cherished memory itched with in me for ever. Coming to this dish, it's just a vegetarian version done by substituting mushrooms instead of chicken following the chicken-65 recipe. Food always has its own way of surprising us.. I hope this humble recipe also does the same to each one of you.
| Ingredients | Quantity |
| --- | --- |
| Button mushrooms | 1 packet cleaned whole |
| Ginger garlic paste | 1/4 teaspoon each |
| Chilli powder | 1 tablespoon |
| Turmeric powder | 1/4 teaspoon |
| Curd | 1/4 cup |
| Cinnamon | 1 inch piece |
| Cloves | 2 |
| Cardamom | 1 |
| Pepper powder | 1/4 teaspoon |
| Cumin powder | 1/4 teaspoon |
| Lime juice | 1/2 lime |
| Vinegar | 1/4 teaspoon |
| Salt | to taste |
| Orange Red food colour | a pinch |
| Cornflour | 1 tablespoon |
| Maida | 1 tablespoon |
| Egg | 1 ( optional) |
| Oil | to deep fry |
To garnish
| Ingredients | Quantity |
| --- | --- |
| Onion | 1 sliced to rounds |
| Lemon wedges | Few |
Method
Grind all the ingredients together except for the mushrooms to a smooth paste.
Marinate cleaned mushrooms in the masala paste for 3 or more hours.
Heat oil to deep fry in a heavy bottomed pan. Fry mushrooms in batches for 5 minutes.
First 1 minute on high heat and then on medium heat for 4 minutes. This way you get a crisp out side and a soft, moist cooked mushrooms inside.
Once the mushrooms are fried, drain. Garnish with sliced onions and lemon wedges over the mushroom 65 and serve hot .