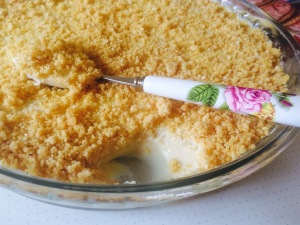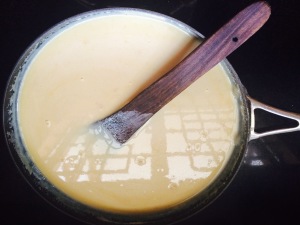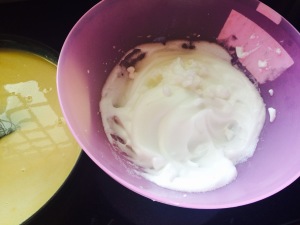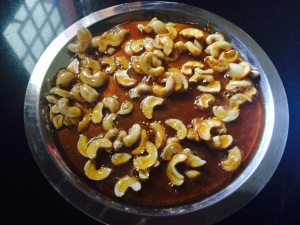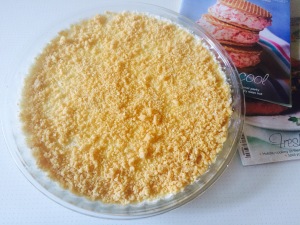 Preparation time : 20 minutes
Cooking time      : 20 minutes + setting in the refrigerator over night
Serves                : 8 members
Description:
This pudding recipe that was shared to me by my father-in-laws younger brothers wife sara amma and it is one among the first few recipes,I learnt to make as a new bride. My first few trials were a flop as the custard part always went wrong with me getting lumps and other few times i did not beat the egg whites to stiff which ended up in a mess. My trial and errors sure did help me learn more about making perfect desserts which requires you to be precise with the ingredients used,following the method religiously and having all the required ingredients at room temperature or as mentioned in the recipe. Making a dessert is not like our every day cooking of mixing and matching ingredients together. It's technically sound and you need a lot of patience to see and taste the final product too. It's a snap to master. I  love the textures in this pudding of its soft and smooth bottom and the crunchy crispy caramelised  butter scotch nuts on top. I always end up adding more nuts on top that results in an explosion of different textures. Get ready to experience absolute luxury that's scrumptious.
Ingredients for the pudding:
| Ingredients | Quantity |
| --- | --- |
| Butter | 1 teaspoon |
| Sugar | 1 teaspoon |
| Milk | 2 tins measured with the condensed milk tin |
| Condensed milk | 1 tin |
| Eggs | 2 |
| Vanilla essence | few drops |
Method: 
Heat a pan adding butter. Once butter melts,add sugar and caramelize to a golden color. Remove the pan from heat.
Add the milk and mix well. Replace it over heat again and bring to boil for five minutes.
Add the condensed milk and boil further for two minutes. Remove the pan from heat.
Separate the egg yolks and egg whites. Beat the yolks to creamy texture.
Add the beaten yolks to the milk mixture and mix well. Then replace it over low flame and keep stirring until it gets to a creamy custard consistency with no lumps.
Add vanilla essence and mix well. Remove from heat and set aside to cool.
Beat the egg whites to stiff in a clean bowl with the help of an electric egg beater. Add the stiff egg whites in batches to the cooked milk mixture and combine well.
Pour the pudding mixture into desired pudding tray or bowls. Place in the refrigerator for six hours or over night to set.
Ingredients for butter scotch nuts : 
| Ingredients | Quantity |
| --- | --- |
| Sugar | 1/4 cup |
| Cashew nuts | 4 tablespoons |
| Almonds | 4 tablespoons |
Method :
Caramelize sugar in a hot pan to golden in color.
Add the nuts and mix well. Pour over a butter greased flat plate. Cool completely for 15 minutes to set.
Break the set butter scotch nuts and crush them coarsely.
How to proceed :
Sprinkle the coarse butter scotch powder generously over the set pudding just before serving. serve chilled.