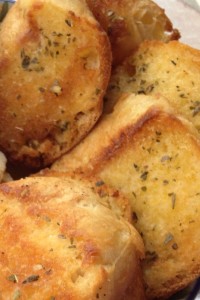 Preparation Time : 5 minutes
Cooking Time : 20 minutes to preheat the oven + 10 to 11 minutes to bake .
Serving : 4 members
Description
Garlic Bread . Delicious and a simple dish made with few ingredients in 10 minutes . I first was introduced to garlic bread when my kids were 2 to 3 years old. Remember it was on a holiday to Bangalore and pizza corner had just been launched in India then. My cousins fazeem and Qyas were so excited about our lunch as we planned to got to pizza corner. Me not knowing head or tail of pizza corner felt lost. I had just tasted the pizza they sell in small eat out's and bakery's (specially JM Bakery in Coimbatore)my cousin fazeem , Noorie,Aashik,Gani and Qyas travelled a lot as children so they knew garlic bread, cheese cake and so many other international food dishes . So i gained my knowledge in international cuisine through them and my NRI friends in the school.The order was then placed by my cousins in pizza corner. We were served the garlic bread first 1 portion with cheese and the other without. I tried both and could not stop eating as it was so very yummy. Didn't think garlic and bread would taste this good. From then i have been trying out many recipes for garlic bread as my kids love it but only recently did i get the secret to real garlic bread. I serve garlic bread with soup ,prawn pie or just as it is.
Ingredients
| Ingredients | Quantity |
| --- | --- |
| bread | 8 slices cut into 1 1/2 inch thick slices ( I used French bread ) |
| Butter | 1/4 cup ( room temperature ) |
| Salt | to taste ( if using salted butter be careful with salt ) |
| Garlic paste | 1 table spoon |
| Dried oregano | 1/4 teaspoon |
| Dried basil | 1/4 teaspoon |
| Dried thyme | 1/4 teaspoon |
| Dried rosemary | 1/4 teaspoon |
Method
Preheat oven to 180 degree Celsius for 20 minutes .
Line a baking tray with foil paper . Mix all ingredients together except for bread . Taste and adjust .
Apply butter mixture on one side of each bread slice and place equally apart from each other on the lined baking tray , butter applied side facing up .
Bake for 5 to 8 minutes until sides and crusts are crisp . Remove and let it cool for about 3 minutes . Turn the slices over and apply more butter mixture .( I personally like my garlic bread rich in butter and garlic flavour so I do this but you can serve the garlic bread with just one side of butter mixture )
Be carefully as the bread will be warm and the butter tends to melt soon . Place them bake on the lined baking tray equally apart from each other on the newly applied butter mixture side facing up and bake for another 3 minutes till golden in colour .
Remove and serve hot immediately or wrap in foil paper and serve later . Best served immediately .