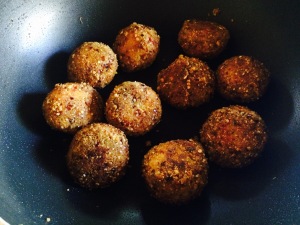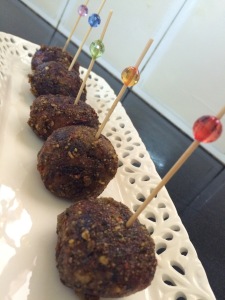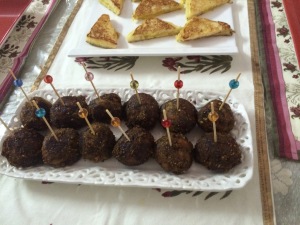 Preparation time : 30 minutes
Cooking time : 20 minutes
Serves : 4 members

Description
I am getting into a habit of serving only home made goodies for any one who drops in for a brunch at home. Good for me as I am learning the art of coming up with new dishes with cupboard friendly ingredients from my pantry with in a limited period of time (it surely does feel like the master chef mystery box challenge) but a very bad news for my cook and help at home. As the minute I start looking into my refrigerator for veggies, fruits, leftovers and a quite panicked walk in my store-room… They get to know that's it our peace is shattered for the next one hour or more. Initially they would just gaze at me thinking what is this mad lady up to.. Now a days they are so used to it that as I am working on a dish, my cook asks me should I prep to coat the snack or are you going to steam it… My help comes up with how should I chop these veggies for the next dish.. We make a great team and slowly even they have started to enjoy as I do. The best part, they know no dish is supposed to go out of the kitchen with out a picture being taken. Even at times when we are running late to entertain our guests… They both so sweetly switch on all the lights in the kitchen gearing up for a photo shoot and ask "amma, light poothuma.. Ellai off panna va" which means is the light enough or do we have to switch it off. Oops coming to the dish… This dish was also born as such with a time frame to entertain my friend Sheela and her two little kids coming over for tea. Her son just went head over heels with these paniyaram's and in fact Sheela did ask me to send over the same dish on his birthday a few days back, just to surprise him. I did and I am sure this will be itched with in him for ever to be cherished, shared and forwarded with his friends, cousins, his children and his grand children too..

Ingredients for coriander mint chutney
| Ingredients | Quantity |
| --- | --- |
| Coconut | 1/4 cup |
| Ginger | a tiny piece ( just a tit bit size) |
| Coriander leaves with stem | 1/4 cup |
| Mint leaves | 8 leaves |
| Green chillies | 4 to 6 |
| Tamarind | a pinch |
| Salt | to taste |
| Curry leaves | 2 |
| Jaggery | a tiny piece |
Method for the coriander mint chutney
Grind all the above ingredients together to a smooth paste of semi thick spreading consistency by adding very little water. Taste and adjust seasoning and set aside.

Sweet chutney
Ingredients

Quantity

dates
8
jaggery
1 table spoon
black salt
1/4 tea spoon
tamarind pulp
2 table spoons
salt
to taste
chilli powder
1 tea spoon
cumin powder
1/2 tea spoon
Method
1. Boil all the ingredients together with little water for 8 minutes.

2.Cool and blend to a smooth paste. Keep aside.
Ingredients for kuli panniyaram 
| Ingredients | Quantity |
| --- | --- |
| idli batter | 2 cups |
| small onions | 1/2 hand chopped |
| green chillies | 1 chopped finely |
| ginger | 1/4 inch piece grated |
| curry leaves | few chopped |
| coriander leaves | few chopped |
| soda - bi - carbonate | a pinch |
| cumin seeds | 1/4 teaspoon |
| salt | to taste |
| water | little |
| oil | 4 tablespoons |
Method
Mix all the above ingredients together except for oil, to get a semi loose consistency batter. Set aside for 10 minutes.
Heat a non-stick kuli pariyaram griddle with 1/4 teaspoon oil in each dent on the griddle
When oil is hot, pour 1 1/2 tablespoons full of batter mixture into each dent and cook for 30 seconds.
You will find bubbles on top of the batter in each dent, then turn the kuli pariyarams over with a help of a spoon or a kuli pariyaram stick
Cook again for a minute on medium heat till cooked through. Remove and keep aside.
Other ingredients
| Ingredients | Quantity |
| --- | --- |
| Oil | 1 tablespoons |
| Idli powder / gun powder | 1 to 1 1/4 cups |
How to proceed
Heat oil in a non-stick pan. Add the coriander mint chutney and the sweet chutney. Mix well and bring to boil and cook until thick and saucy. Taste and adjust seasoning
Add the kuli panniyarams and toss well by moving the pan making sure all the chutney is being soaked by the kuli paniyaram's evenly all over.
Once no chutney is remaining, sprinkle the idli powder all over and toss well. Lower the flame and roast the kuli paniyaram's for 5-6 minutes tossing every now and then, making sure to get a crisp golden outer crust with out burning them. Poke tooth picks into each crisp kuli paniyaram's and serve as a finger food in style.
Notes
At times I make the same by substituting with our regular tomato chutney and white coconut chutney. Following the same method for a savory version.