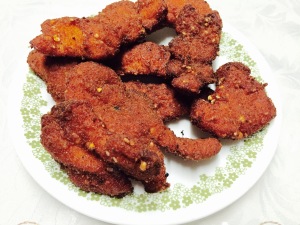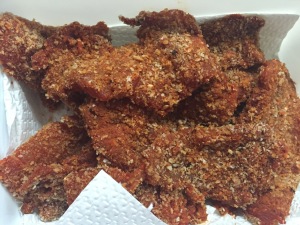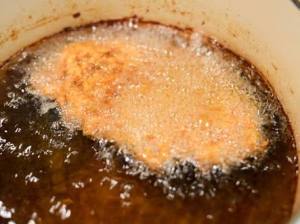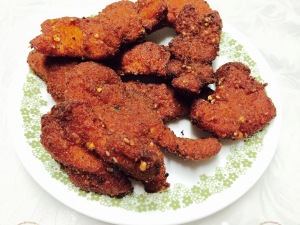 Preparation time : 20 minutes + 2 hours for marination
Cooking time      : 2-3 minutes for each bath deep fried
Serves                : 4 members
Description
Summer holiday days at my grand parents place in palakkad where there were country chicken with its chicks roaming all around the house. They were almost every where we kids went. All my nostalgic summer vacation memories has the rooster crowing on the back drop. It was amazing to see how much care the chicken would take by keeping her little ones always beside her. Gods way of creating things and amazing us .
Now why am I writing about this.. I seriously have no idea ( dumb me ). Sorry peeps. This chicken dish was made by my mom to impress her son – in – law on one of our visits. Took note of the recipe and like the chicken Saving its chicks my mom did save me with sharing this recipe that made things easy for me to try, test and share. Crispy flat succulent spicy chicken with traces of sesame seeds over was ultimate killer combo. A must try and I assure you this will be added to your regular's at home. Happy chickening ..
| Ingredients | Quantity |
| --- | --- |
| Boneless chicken | 1/4 kg cut into 1/4 inch thick square pieces |
| Tomato sauce | 1 teaspoon |
| Red chilly sauce | 1 teaspoon |
| Light soya sauce | 1 teaspoon |
| Vinegar | 1/4 teaspoon |
| Lemon juice | just a squeeze |
| Ginger and garlic paste | 1/4 teaspoon |
| Salt | to taste |
| Red chilly powder | 1/2 teaspoon |
| Red food color | a pinch ( optional ) |
| Ajinomoto | a pinch ( optional) |
| Cornflour | 1 teaspoon |
| Egg | 1 whole |
| White Sesame seeds | 1 tablespoon |
| Bread crumbs | 1 cup heaped |
| Oil | to deep fry |
Method
Marinate chicken squares with tomato sauce, red chilly sauce, soya sauce, salt, red chilly powder, Ginger garlic paste, vinegar, lemon juice, red food color, ajinomoto, cornflour and egg for two hours or more.
Squeeze the chicken pieces out of the marination. Hammer each chicken piece with a meat hammer to flatten a bit making sure not to tear the chicken piece.
Sprinkle white sesame seeds over. Coat the chicken pieces over bread crumbs making sure it is coated very all around. Do the same to all the chicken pieces.
Heat oil to deep fry in a heavy bottomed deep wok. Drop six to eight pieces of chicken into medium hot oil. Deep fry to golden and crisp.
Drain and serve hot with dips of choice.