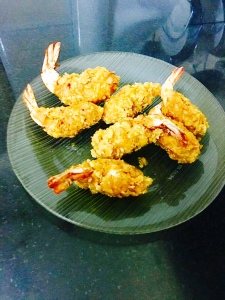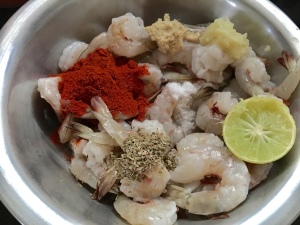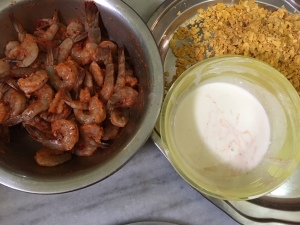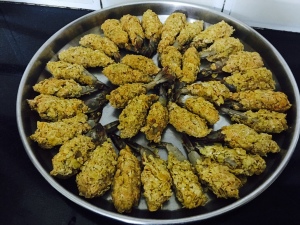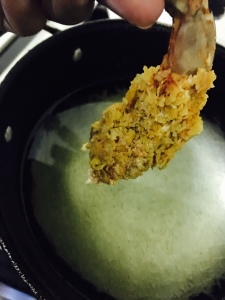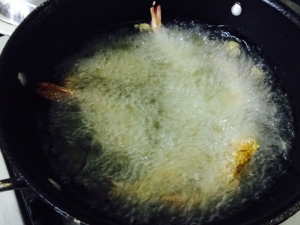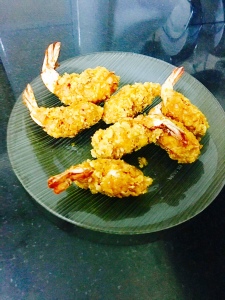 Preparation time  : 30 minutes + one hour marination time
Cooking time       : 2 minutes for each batch deep fried
Serves                 : 6 members
Description
Prawns is a family favorite. Anything and everything made with them are always welcome in the table for any meal. Fed up with the regular ways I cook them, I wanted a crispy fried dish made that could be served as a starter. Batter friend prawns is done regularly so not that. My mind was digging for what might give a crispy result. Cornflakes popped up. I started with the recipe and made sure to give the prawn a cornflakes crust. My experiment didn't go for waste as it was a super hit at home. The crispy crust with the juicy prawn inside was like a marriage made in heaven. Me being the match maker here, was sure over whelmed.
Ingredients  to marinate 
| Ingredients | Quantity |
| --- | --- |
| Prawns with tail | 20 cleaned |
| Red chilly powder | 1 teaspoon |
| Dried Oregano | 1/2 teaspoon |
| ginger and garlic paste | 1/2 teaspoon |
| salt | to taste |
| lime juice | a squeez |
| ajinomoto | a pinch ( optional) |
Method
Marinate the prawn  in all the above ingredients for one hour or more.
Ingredients for the crust
| Ingredients | Quantity |
| --- | --- |
| Flour / Maida | 1/2 cup |
| corn flour | 1/2 cup |
| salt | to taste |
| water | little |
| Corn flakes | 3 cups |
| oil | to deep fry |
Method
Mix flour /maida and cornflour together along with salt to taste and water to get a thick gooey batter with no lumps.
Place the cornflakes on a flat plate or tray . Take the marinated prawn piece and dip into the batter and press the prawn towards the cornflakes.
Make sure the cornflakes has coated the prawn well. Turn over and do the same. Repeat the same to all the prawn.
Heat oil to deep fry.
Add the prawn pieces 5 to 6 at a time. Lower the flame and fry till prawn is crisp. Drain. Serve hot with tomato sauce and mayonnaise.