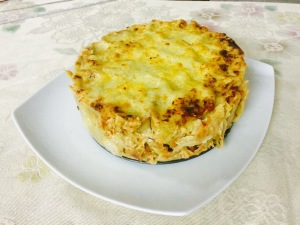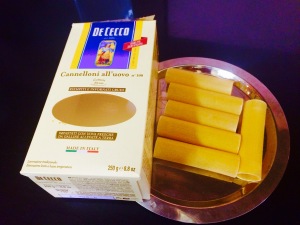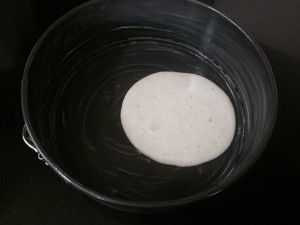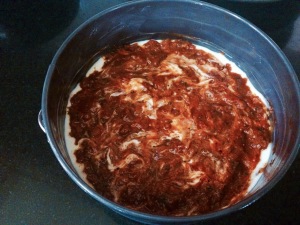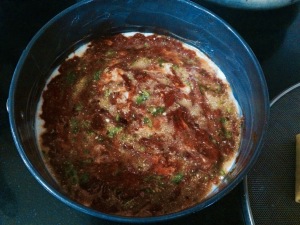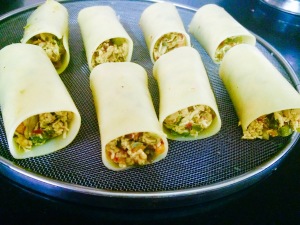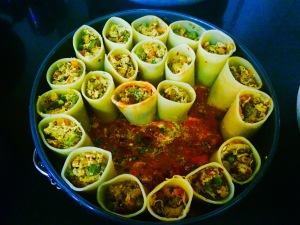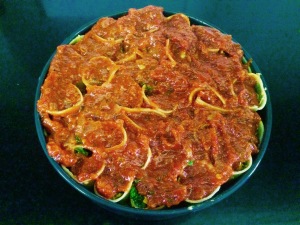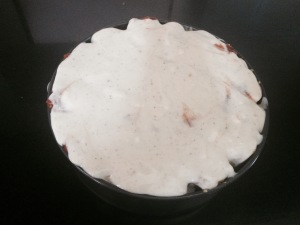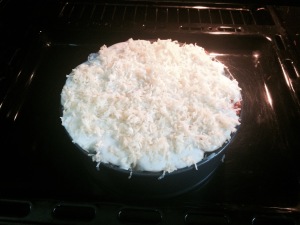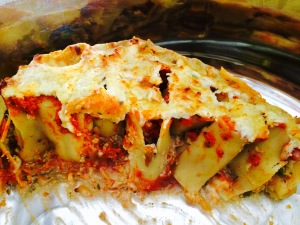 Preparation time  : 40 minutes
Cooking time       : 1 hour
Serves                 : 8-10 members
Description
Comfort food is what I needed. As mentioned earlier to me Italian cuisine some how relate's a lot to romance. So it's going to be an Italian dish celebration said my mind. How can I say no to it. Now the next big thing in mind.. Simple and quick or elaborate and long dish. Well simple and easy always seems a cheat's way to me so of course it's got be elaborate and long dish to make. Next what do I sizzle up ?? Just went through my picture gallery for ideas and there it was an image of a cannelloni made in a different way. I started with great enthusiasm and went on and on with too many things to be done but once I started to assemble the dish.. The warmth of the dish was felt and the elaborate long process just melted away. Placed it in the oven to bake. I could not wait to see and taste the dish. The longest forty minutes of my life I can say. Removed it from the oven and had to wait for it to cool down a bit. The dish looked deep and cozy oozing out comfortableness as I wanted. Served it and hubby dear goes on to ask me what is this? My mind went blank as I didn't think of a name for this dish. With the knife in my hand all ready to cut and serve, the first thing that came to my mind was a cake. So I just told its cannelloni savoury cake. Wow I just named my dish and cut her as well to celebrate it. Ate her too.. All I needed now was a big warm hug for the efforts put in to create her. That's a pretty cool way to celebrate with warmth and coziness .. Right ??
Step 1 – cheese sauce
Ingredients for cheese sauce
| Ingredients | Quantity |
| --- | --- |
| Milk | 2 cups |
| Refined flour | 2 tablespoons |
| 1 tbsp butter | 1 tablespoon |
| Salt | to taste |
| Cheese slice | 4 slices |
| Chilli flakes | to taste |
| White pepper | to taste |
| Mixed dried herbs( oregano , thyme ,rosemary , dill , basil ) | a pinch of each |
Method for the white sauce
Heat and Melt butter, add refined flour, saute a little and add the milk very gradually, stirring vigorously all the time.
Bring to a boil, lower the heat and simmer for 1-2 minutes, add the salt, white pepper, chilly flakes dried herbs and cheese slice.
Mix well and boil till a thick gooey saucy consistency is obtained.
Add a little more milk if the sauce gets too thick.
Step 2 – Marinara Sauce
Ingredients for Marinara sauce
| Ingredients | Quantity |
| --- | --- |
| Chopped onion | 3/4 cup |
| Garlic minced | 5 flakes |
| Olive oil | 4 tablespoons |
| Whole peeled tomatoes | 3/4 kg , ( blanch whole tomatoes in hot water and peel the skins ) , ( I blitzed the peeled tomatoes to a corse pulp ) |
| Salt | to taste |
| Sugar | 1 teaspoon |
| Bay leaf | 1 |
| Tomato paste / tomato sauce | 1 tablespoon |
| Dried basil | 3/4 teaspoon |
| Ground black pepper | 1/2 teaspoon |
| Red chilli powder | 1 teaspoon ( for the Indian pallet ) |
Method
Heat a large sauce pan over medium heat, saute onion and garlic in olive oil until onion is translucent.
Stir in tomatoes, salt, sugar and bay leaf. Cover, reduce heat to low, and simmer.
Stir in tomato paste, basil and 1/2 teaspoon pepper powder.
Cook until sauce is thick and gooey. Taste and adjust seasoning. Remove from heat.
Step 3 – Chicken filling 
Ingredients for Chicken filling
| Ingredients | Quantity |
| --- | --- |
| Boneless chicken | 1/4 kg |
| Garlic paste | 1/4 teaspoon |
| Salt | to taste |
| Onions | 5 big chopped |
| Green chillies | 4 chopped |
| Mixed vegetables | carrots , beans , cabbage , green peas chopped and boiled in water with salt |
| Dried basil + oregano | 1/4 teaspoon |
| Pepper powder | to taste |
| Oil | 2 tablespoons |
Method for chicken filling
Pressure cook cleaned chicken, salt and garlic paste for one whistle. Bring to boil and Reduce the water. Cool completely and shred the chicken to treads ( I run it in the food processor for a second ).
Heat oil in a non stick pan. Add onions and fry to translucent. Add green chilies, boiled chopped mixed vegetables, shredded chicken, dry basil and oregano, salt and pepper to taste.
Mix well and lower the flame and keep stirring for 3 minutes letting all the flavours infuse together. Remove from heat, cool and set aside.
Step 4 – Cannelloni 
Ingredients for Cannelloni
| Ingredients | Quantity |
| --- | --- |
| Cannelloni shells | 1 packet store bought |
Method
Cook the cannelloni shells according to packet instructions and keep aside.
Step 5 – how to proceed
Other ingredients
| Ingredients | Quantity |
| --- | --- |
| Egg | 1 whole |
| Salt + pepper + red chili flakes | to taste |
| Coriander leaves | few chopped |
| Grated cheese | 1/4 cup |
Method
Preheat the oven to 180 degree Celsius. Grease a spring form generously with butter.
Beat egg with pepper, salt, chilly flakes, chopped coriander leaves and 2 teaspoon of grated cheese.
Fill each cooked cannelloni shell with the chicken filling.
Spread two ladles of white cheese sauce over the greased spring form tin. Top it with two ladles of marinara sauce and spread evenly.
Pour the egg mix and spread evenly.
Stack the filled cannelloni shells in a horizontal manner tightly.
Top with two ladles or more of marinara and spread evenly. Pour two ladles or more of white cheese sauce and spread evenly.
Sprinkle with the remaining cheese on top.
Bake in the preheated oven for forty minutes. Remove and bring cool for five minutes. Cut and Serve hot.