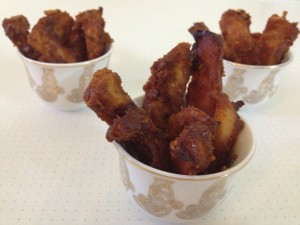 Preparation Time : 10 minutes + 5 hours for marination
Cooking Time : 30 minutes
Serving : 4 members
Description
I go head over heels about peanuts . No matter what form it is served in and peanut butter is my favourite . ( yea .. Anything fattening and high in calorie is liked by my taste buds which is desperate to kill me soon ) the first time i got to know about peanut butter was at the dinning table of my boarding school where my seniors would pass their bottle of peanut butter around to share with every one for our breakfast bread . I still remember, A chunk full of peanut butter fell down on to my bread and me not knowing what it was but could not show it out as well as all around were my seniors and above that what a shame it would be to admit to the fact with an elite English speaking crowd . I did spread the peanut butter with the help of my spoon all around my slice of bread seeing other do the same next to me . With out any one taking note of me , I immediately placed the spoon with little peanut butter sticking onto the spoon here and there in bits and tasted it . The moment my tongue felt the taste of the fatty culprit , I surrendered myself to the peanut butter and from then till date have not been able to get relived from it . I can easily pair peanut butter with any thing and every thing be it sweet or savoury . Then why leave the mighty chicken alone , so paired it up and gave a try to get this spot on dish . I omitted using oil as there is more than enough of peanut butter used to compensate . When served at home I ended up getting just a single piece and the left over crumbs .
Ingredients
| Ingredients | Quantity |
| --- | --- |
| Bone less Chicken | 1/2 kg , cut into 1/2 inch thick strips |
| Garlic paste | 1/4 teaspoon |
| Lemon zest | 1/2 a lemon |
| Light Soya sauce | 4 tablespoons |
| Chilli powder | to taste |
| Pepper powder | to taste |
| Sugar | 1 / 2 teaspoon |
| Peanut butter | 8 tablespoons |
| Lime juice | 1/2 a lime |
| Water | 1/4 cup |
| Salt | to taste |
Method
Mix garlic paste , soya sauce , lime juice , lemon zest , sugar , chilli powder , pepper , 4 tablespoons of peanut butter and salt together . Taste and adjust .
Marinate chicken strips in the above sauce for 5 hours or over night in the refrigerator . Preheat oven to 180 degree Celsius .
Place the marinated chicken strips 1/4 centimetre away from one another over foil paper in a baking tray and bake for 30 minutes .
Mix the remaining peanut butter with the remaining marinate sauce and water .
While baking the chicken strips keep brushing the sauce over the chicken strips in an interval of every 5 minutes once and turn over and bake after 15 minutes .
Serve warm as it is .