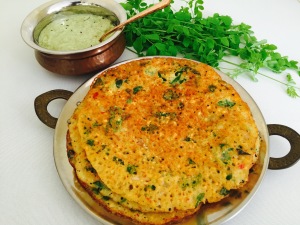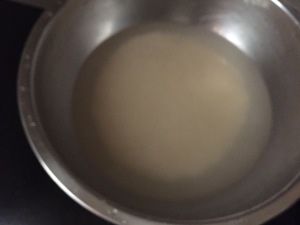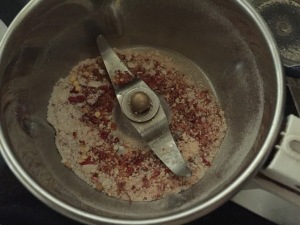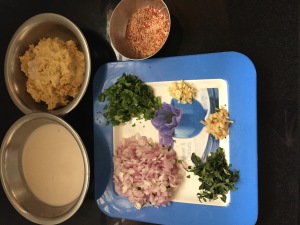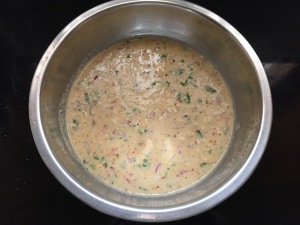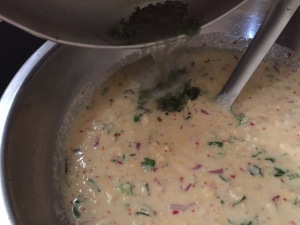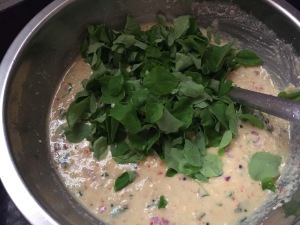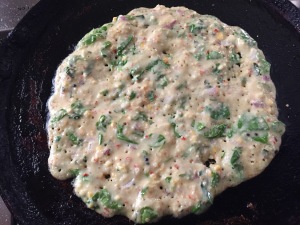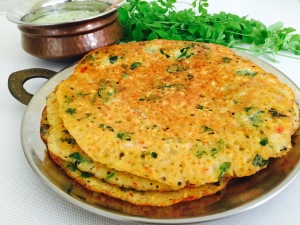 Preparation time  :  2 hours for soaking and 20 minutes
Cooking time       :  2 minutes or less for each Adai
Serves                 :  2 to 3 members
Description
The regular Adai that most tamilians have as a main course for breakfast. The twist here is adding kodo millet to this humble dish. I am addicted to a new habit of sending pictures half way through of preparing a dish and sending it to foodie friends asking them to guess the dish. I did the same with this dish as well. After the guessing game was done, I did get a suggestion to add drum stick leaves to the Adai. I grabbed the idea and did so.. Lucky me as I have drum stick trees in the back yard at home .. This elegant vegetarian main course with its contrasting flavors and textures made it an absolute hit at home. For me the best kind of cooking involves experimenting with common ingredients you are sure to find in your pantry and leftovers from elaborate weekend lunches. Umm our desi – inspired dishes are guaranteed to chase away blues. So this new experiment of mine turned to be a true hero of comfort cooking.
| Ingredients | Quantity |
| --- | --- |
| Kodo millet / viragu arisi | 1 cup |
| Moong dal | 2 tablespoons |
| Thoovar dal | 1/4 cup |
| Channa dal | 1/4 cup |
| Urad dal | 2 tablespoons |
| Poha / aval | 2 tablespoons |
| Curd | 4 tablespoons |
| red chilly flakes | 3 tablespoons |
| Asafoetida | 1/8 teaspoon |
| Turmeric powder | 1/4 teaspoon |
| Salt | to taste |
| Onions | 1 medium sized chopped |
| Curry leaves | few chopped |
| Grated Ginger | 1/4 teaspoon |
| Grated Garlic | 1/4 teaspoon |
| Drumstick leaves | 1 cup |
| Mustard seeds | 1/4 teaspoon |
| Oil | 1 teaspoon + to drizzle over adai |
| Soda - bi - carbonate | 1/8 teaspoon |
Method
Wash and soak Kodo millet in water for two hours. Soak washed dals and poha together separately in another bowl for two hours.
Drain the Kodo millet and grind to a semi thick coarse paste adding curd. Grind the drained dals and poha together to a coarse paste.
Mix both the ground batters together along with chopped onions, coriander leaves, ginger, garlic, curry leaves, chilly flakes , salt and turmeric powder. Mix well to a semi thick batter by adding little water.
Heat oil and crackle the mustard seeds. Top with asafoetida. Remove from heat and add to the adai batter mix. Finally add drumstick leaves. Mix well. Taste and adjust consistency. Set aside for half an hour.
Add soda – bi – carbonate mixed in 1/2 teaspoon of water to the better and mix well. Heat a greased griddle. pour a label of adai batter and spread to a circle like thick dosa. Drizzle with little oil around. Cook until crisp and golden, flip over and cook further for 50 seconds. Remove and serve hot with chutneys of choice.